Law
Sister Helen Prejean and Kirk Bloodsworth Speak at WCL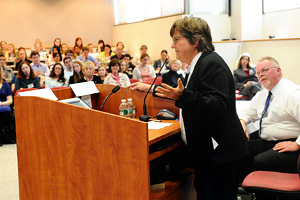 Two activists who've spent time on death row — one as a spiritual adviser, the other as a wrongly-convicted inmate — shared their stories with a standing-room-only crowd at AU's Washington College of Law (WCL), March 1.
Sister Helen Prejean, who chronicled her relationship with a Louisiana murderer in the bestselling book-turned-blockbuster film, Dead Man Walking, and Kirk Bloodsworth, the first American death row inmate exonerated by DNA fingerprinting, spoke in honor of the National Lawyers Guild's annual Student Day against the Death Penalty.
Bloodsworth detailed the nearly nine years spent in the Maryland State Penitentiary after being convicted of the 1984 rape and murder of a nine-year-old girl. Seven years into his sentence, Bloodsworth read Joseph Wambaugh's The Blooding, the story of a British scientist who identifies a killer through genetic fingerprinting, prompting him to wonder: "If DNA can convict you, why can't it exonerate you?"
After one last twist — physical evidence thought to have been destroyed was found in the judge's chambers — Bloodsworth was released in 1993. He was officially exonerated a decade later when DNA revealed the identity of the true killer: a man who, ironically, had been incarcerated in a cell one floor below Bloodsworth's for an unrelated crime.
The Eastern Shore native, who penned a book based on his time behind bars, implored the law students in the audience to remember his story as they embark on their careers as attorneys and activists.
"You must stand up for what's right. There have been 140 death row inmates exonerated in the United States — stand up for us," he said.
Prejean began her prison ministry in New Orleans in 1981, when a friend encouraged her to correspond with convicted murderer Elmo Patrick Sonnier. She served as Sonnier's spiritual adviser in the months leading up to his execution, and has since ministered to other death row inmates across the country. Her experience spawned two books: Dead Man Walking and The Death of Innocents.
She argued that capital punishment is state-sanctioned murder — not a deterrent, as death penalty proponents claim.
"The people doin' the thinkin' and the people doin' the murderin' are two different groups of people," said the spirited nun in her southern drawl.
Like Bloodsworth, Prejean, who works with Catholic Mobilizing Network, a group dedicated to ending the death penalty, encouraged the audience to take up the cause.
"How did we end slavery? How did we win women the vote? It's because ordinary folks like us woke up and became active citizens," she said. "Any place is a good place to start."