Government & Politics
Former First Ladies Dish on Life in the East Wing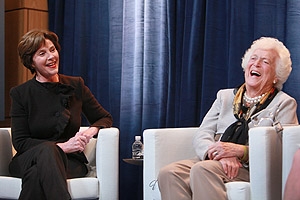 What's it like being married to the world's most powerful person?
Former first ladies Barbara and Laura Bush offered an intimate look at life at 1600 Pennsylvania Avenue, March 5, at the George W. Bush Presidential Center in Dallas, Texas. Cosponsored by AU, America's "First Ladies: An Enduring Vision" is the second in a year-long series of conferences at Texas' three presidential libraries.
"The thing I loved most was hearing the kids giggling, laughing, riding bikes. It made it home," said Barbara Bush, who also enjoyed the "unbelievable food" prepared by the White House chef.
Laura Bush discussed the darker side of life in the spotlight.
"You didn't like to have your husband criticized, but I knew that what happens in the United States is that our presidents and first ladies are characterized in a way they're not. I was very aware that that's just something you put up with.
"I loved to call Barb and commiserate about certain reporters," she added with a laugh.
The Bush women were introduced by George W. Bush, who noted, "I have no problem with strong women. I was raised by one, I married one, and I believe we're raising two."
Moderated by presidential historian and Pulitzer Prize–winning biographer Doris Kearns Goodwin, the discussion was one of four panels that explored life in the East Wing and first ladies' influence throughout history. Speakers included the social secretaries to Lady Bird Johnson, Nancy Reagan, and both Bushes, and a trio of White House photographers.
The first ladies series is the brainchild of Anita McBride, executive in residence, Department of Government, School of Public Affairs, and former chief of staff to Laura Bush. McBride organized the inaugural event, "The Legacies of America's First Ladies," at AU's Katzen Arts Center in March 2011. Among those in attendance: 12 of the 13 presidential librarians and National Archivist David Ferriero, who proposed taking McBride's show on the road.
Texas — the only state with two living first ladies and three presidential libraries — was the perfect place to start, said McBride.
"We wanted each of the conferences to have a slightly different flavor, but the anchor would be a conversation between Laura and Barbara Bush, who hold a unique place in history, as they lived through each other's role as first lady," explained McBride.
The series kicked off in November 2011 at the George Bush Presidential Library and Museum in College Station and will conclude in November 2012 at the Lyndon Baines Johnson Library and Museum in Austin. McBride said collaboration with the Gerald R. Ford Presidential Library and Museum in Ann Arbor, Michigan, is also in the works.
"There's a real interest around the role of the first lady. It's sort of mysterious; people are intrigued by a woman who's so close to the most powerful person on earth," said McBride. "It's an honor to help tell their story."