Achievements
Durant Wins Prestigious Dwight Waldo Award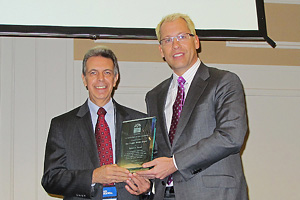 School of Public Affairs professor Robert Durant received the prestigious Dwight Waldo Award from the American Society for Public Administration during the organization's annual conference in Las Vegas on March 6.
Named for the longtime editor-in-chief of Public Administration Review, the award is presented to "persons who have made outstanding contributions to the professional literature of public administration over an extended career." To be eligible a nominee must have had at least one article published in Public Administration Review and a minimum of 25 years of active scholarship that has furthered the discipline of public administration.
"It was a nice surprise and quite an honor," Durant said. "Dwight Waldo is really one of our most prominent historical figures in the field. The folks who have received the award, it's a literal who's who, including my [American University] colleague David Rosenbloom."
Durant came to AU in 2003, drawn as much by SPA's blend of research, theory, and practice as by its Washington location.
"You have a nice climate in which to really interact with professionals in the field," he said. "It's a wonderful environment to be in if you're studying an applied science like public administration."
Durant is no stranger to awards. He has received seven book awards, two best article awards, and the prestigious Charles H. Levine Memorial Award for excellence in research, teaching, and service to the wider community. He has published 18 articles in Public Administration Review alone, eight books, and over a hundred articles and book chapters. In 2011 he was named AU's Scholar-Teacher of the Year.
He was nominated for the Waldo Award by James Perry, editor of Public Administration Review.
"Durant has made outstanding contributions to research in public administration over the past three decades," Perry wrote. "In the spirit of ASPA's founders, his research and publication endeavors bridge theory and practice. He has also actively advanced research opportunities for junior scholars in the field, contributing importantly to future generations of scholarship."
This year is shaping up to be a busy one for Durant. He recently finished editing a volume tentatively titled "Debating Public Administration." It's a collection of exchanges between practitioners and academics on key topics. He and SPA professor Ed Stazyk also are writing a book with the working title "A Preface for Public Service."
"It deals with why it's exciting to be in the public sector right now," Durant said. "I think that's really needed right now."
Despite the cringe that overtakes many people's faces when discussing the political climate in Washington these days, Durant remains upbeat about the future of public service.
"It's got to be frustrating watching gridlock, but by the same token I think our students understand that while there may be gridlock in Congress, agencies down the street are issuing rules and regulations every day in volumes," he said. "There's a lot of gridlock that the newspaper focuses on, but in terms of federal agencies its 3,000 pages of rules that affect you and I every year.
"We've really moved as a department and as a field much more away from the notion of government per se, and more toward governance. For example, our proportion of students who are in nonprofits now is about 25 percent. The students at American University come here with public service motivation. That never dies."