Athletics
Two Wrestlers Earn All-American Status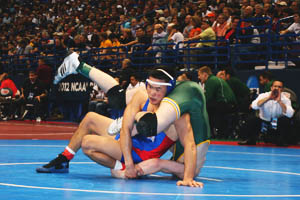 The American University wrestling team left last week's NCAA Championships in St. Louis with plenty of shiny accolades.
Seniors Ryan Flores and Ganbayar Sanjaa each capped their careers by earning All-American status for the second straight year, and junior Danny Mitchell received the competition's most prestigious academic honor.
The junior from Broomfield, Colorado, was selected as the recipient of NCAA Division I Wrestling's Elite 89 award. The honor recognizes the individual who has reached the pinnacle of competition at the national championship level in his or her sport, while also achieving the highest academic standard among his or her peers. It's presented to the student-athlete with the highest cumulative grade-point average participating at the finals site for each of the NCAA's championships.
"I was just ecstatic for Danny," said AU coach Teague Moore. "For Danny to achieve that as a junior shows his diligence in the classroom. He's the complete package as far as a student-athlete. I want more recruits that come to American to have that same focus."
A business administration major in the Kogod School of Business, Mitchell carries a 3.95 GPA. Last year, he was honored as a NWCA Academic All-American after posting the fifth-highest cumulative GPA amongst Division I wrestlers. He has placed at the EIWA Championships in each of his three seasons, which included a third-place finish in 2011 and a fourth-place result in 2010, and this year made the NCAAs for the third-straight year.
"It's an honor to receive this award and be recognized as a top student-athlete in the country," Mitchell told AUEagles.com. "I make sure to keep a strong focus on academics, especially during the wrestling season, because I know how important both are. I feel fortunate to have these opportunities at American."
Mitchell's work in the classroom and on the mat exemplifies the continued growth of the wrestling program. This year AU medaled in its conference tournament for the first time and finished 19th overall at the NCAAs.
In St. Louis, the fifth-seeded Sanjaa finished sixth after dropping both of his bouts on St. Patrick's Day by identical 7-5 decisions to No. 7 Dylan Alton of Penn State and No. 6 James Fleming of Clarion. Flores did not compete on Saturday morning due to medical default, and as a result also placed sixth.
"I'm happy that they were able to end their careers as All-Americans," Moore said. "I really thought if we got either Ganbayar or Ryan through we had a really good chance to win either of those finals matches. We were hoping for a little bit more, but overall I'm very happy with it."
Next season the Eagles return NCAA qualifiers Kevin Tao and Mitchell, and Moore is confident that incoming freshmen and other underclassmen like redshirt freshman David Terao will continue the program's momentum.
"We've got great recruits that are wanting to come to AU and wrestle," Moore said. "Our seniors can walk away from AU wrestling feeling comfortable with their careers."