On Campus
Ecuadorian VP Moreno Discusses Disabilities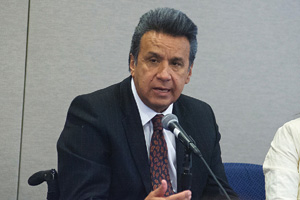 Ecuador vice president Lenin Moreno highlighted a panel discussion titled "Disability Rights and Public Responsibilities: The Role of Public Policy in Fostering an Inclusive Society, The Ecuadorian Experience," at American University on March 8.
Moreno, who was paralyzed 14 years ago after being shot during a robbery, discussed his country's Manuela Espejo program, a study conducted by the government to better identify the needs and provide support for the rights of persons with disabilities.
"We went to the deepest part of the Ecuadorian jungle and the most distant parts of the coast to find people with disabilities," Moreno said through an interpreter. "We are going to achieve full employment [for] people with disabilities."
The panel was moderated by AU professor Derrick Cogburn, director of the Institute on Disability and Public Policy, the event cosponsor. He was joined by Nathalie Cely, Ecuador's ambassador to the United States; Charlotte McClain-Nhlapo, coordinator for disability and inclusive development at USAID; Lee Perselay, disability counsel for Senator Tom Harkin on the U.S. Senate's HELP Committee; Maria Veronica Reina, executive director of the Global Partnership for Disability and Development at the World Bank; and David Morrissey, executive director of the U.S. International Council on Disabilities.