On Campus
Gift from AU Parents Saves Cherry Trees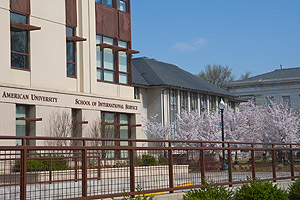 Twenty cherry trees that would have been lost due to construction at Nebraska Hall now grace the Korean Garden by the School of International Service building, thanks to a gift to the arboretum from AU parents.
The transplanted trees join three surviving cherry trees given to American University in 1943 by the provisional Korean government. Those Yoshino cherry trees, now gnarled old fixtures of the Korean Garden, were planted by Syngman Rhee, who would become the first president of South Korea, and AU president Paul Douglass.
Douglass read from the Korean Declaration of Independence during the planting, according to an article in the April 13, 1943, issue of the American Eagle, as the student newspaper was then known.
The donation that made moving the 20 younger trees possible is the largest parents' gift to the arboretum. The donors, who have supported the arboretum in the past, wish to remain anonymous.
 "These cherry trees bridge the historical ones [by the East Quad building] with the SIS building," said Michael Mastrota, landscape architect, Office of the University Architect. "This takes the Korean Garden a little farther and connects to the grandfathers."
The grandfather statues, or dolharubang, are stone figures unveiled last spring in SIS's Korean Garden. The smiling figures are gifts of the Republic of Korea and its autonomous province of Jeju Island. The garden contains other statues and traditional Korean gates as well. Additional Korean trees, shrubs, and perennials will be part of the garden, Mastrota said.
Plans call for the garden to be a sustainable area that's also attractive to the AU community and neighbors. On a recent morning students could be seen photographing the blossoms.
Moving the trees, which took two days, is especially gratifying because this is the arboretum's 10th anniversary, Mastrota said.