International
Jawdat Said Keynoter at Nonviolence Symposium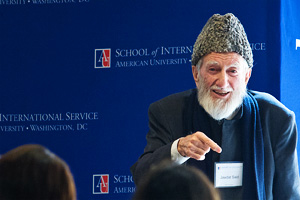 Syrian scholar and nonviolent activist Jawdat Said delivered the keynote address March 29 at the Center for Peacebuilding and Development's forum, "Reclaiming the Power of Nonviolence: Success, Obstacles, and Sustainability of Nonviolent Movements in the Arab Spring."
"The world in which we live is in dire need of peace," he said through an interpreter. "War is practiced by only the ignorant and evil ones."
The two-day symposium featured panels on:
nonviolent strategies for success
addressing obstacles and challenges in sustaining nonviolent action
the role of nonviolent movements in transition
marginalized groups in nonviolent and political social movements
minorities in power and transition
emerging applications of nonviolent methods
Throughout his life Said has been jailed numerous times for his beliefs. He has written on law, religion, and social change, and currently writes a weekly column for Al Majallah magazine.
"His life rests upon eight pillars," said School of International Service professor Abdul Aziz Said, founding director of the International Peace and Conflict Resolution Program (IPCR). "Decency, integrity, compassion, courage, confidence, vision, conviction, mercy."
IPCR cosponsored the event with the Mohammed Said Farsi Chair of Islamic Peace, Nonviolence International, and the International Center on Nonviolent Conflict.
"Peace and compassion obliterates even the notion of animosity," Jawdat Said said. "We need to understand that war is a polluting phenomenon."