Professional News
Kerwin Elected to Leading Education Group's Board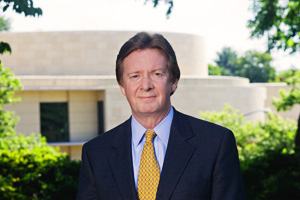 AU president Neil Kerwin has been elected to a three-year term on the American Council on Education (ACE) board of directors.
The council, which represents 1,600 college and university presidents and more than 200 related associations, is the major coordinating body for the nation's higher education institutions, providing leadership on key higher education issues.
"I'm very flattered to be asked to serve on the board of directors," Kerwin said. "ACE is one of the most influential associations representing the interests of higher education because it represents a wide cross section of institutional leaders. My nomination and election reflect recognition of American University and its impact in higher education."
Kerwin is also a member of ACE's Blue Ribbon Panel on International Engagement. That group, chaired by New York University president John Sexton, issued a report in November 2011 outlining how American institutions of higher learning need to adapt and collaborate with their international peers.
Joseph Aoun, president of Northeastern University, was elected chair of the board, the council announced March 12 at its 94th annual meeting in Los Angeles.
Also elected to three-year board terms were Robert Caret, president, the University of Massachusetts System; Susan Herbst, president, University of Connecticut; Renu Khator, chancellor, University of Houston System, and president, University of Houston; Richard Pappas, president, Davenport University; Kenneth Peacock, chancellor, Appalachian State University; and David Wilson, president, Morgan State University.
Elson Floyd, president, Washington State University, was elected to a two-year term.
Susan Westerberg Prager, executive director, Association of American Law Schools, and Darrell Kirch, president and CEO, Association of American Medical Colleges, were elected as higher education association representatives.