On Campus
D.C. Approval Makes Way for AU Transformation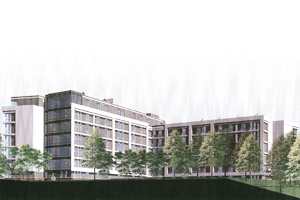 Beginning in just a few days, American University will embark on several major construction projects that will transform the face of the institution.
From the moment the first shovel goes into the ground near Nebraska Hall, cranes and cement trucks will be a common site on campus through at least 2016.
"With the recent approval of our campus plan by the [Washington] zoning commission, we are now prepared to move forward with several exciting projects," said Don Myers, CFO, vice president and treasurer. "We will develop as much space in new facilities during the next five years as we have in the last 25 years, and the results will be truly transformational."
Six major projects are

Nebraska Hall addition — Scheduled to begin in late April, the $15 million project will add 53,000-square-feet of space to the existing building. When completed in summer 2013, it will be able to accommodate 150 more students in apartment-style units.
North Hall — A new, eight-story residential building will rise from the parking lot behind the President's Office Building. The 122,000-square-foot building will be able to house 360 students in suites, and it will have an 8,000-square-foot fitness center. Construction is scheduled to begin in May and be completed in summer 2013, at a cost of $33 million.

McKinley remodeling — The historic building on the quad will become the new School of Communication. "Though we're demolishing the center core area we're going to salvage the marble that's on the skin and some of the architectural features that are in stone and reuse them," said Jorge Abud, assistant vice president for facilities development and real estate. "The balance of the exterior needs to be maintained." Because of the complexity of the project, it is set to begin in May and won't be completed until summer 2014. The price tag is $25 million.
WAMU — Though not part of the campus plan, the university recently purchased and is renovating 4401 Connecticut Avenue. The building will be the new home of WAMU 88.5 FM and University Communication and Marketing. Renovating the 96,000-square-feet of space is costing $22 million.
The new Washington College of Law at Tenley Campus — When completed in summer 2015, the new WCL will be 312,000 square feet, more than 50 percent larger than it is today. The $130 million project calls for the Congressional, Constitution, and Federal buildings to be demolished. Historic Capital Hall will become fully integrated into what essentially will be two additions on each side. Dunblane will remain as well. The building will have underground parking for 400 and will preserve much of the green space.
East Campus — A complex of six buildings that will total 410,000 square feet, East Campus will break ground in summer 2014. It will feature three residence halls that will house 590 students in double rooms, each with a bathroom. Two buildings will be used for instructional space and academic offices, and the final building will be home to the Welcome Center. The complex, which will cost $99 million, will be built on about two-thirds of the current parking lot. There will be underground parking for 250, while roughly 250 spots will remain above ground.
It's a dizzying amount of growth. In order to ensure schedules are met, each project has a dedicated construction project manager assigned to oversee it as part of a new construction management team.
"This exciting expansion of the university's facilities will help to advance our academic mission and the goals in the strategic plan," Myers said.