Achievements
President's Award Winner Exemplifies Service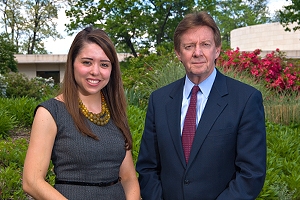 Carol Foster, an AU School of Public Affairs (SPA) graduating senior with a 3.96 grade point average and a long list of volunteer activities that have bettered the Washington, D.C., community, is this year's President's Award winner.
The President's Award, AU's highest official honor for undergraduates, recognizes exceptional accomplishments that reflect American University's ideals. In addition to outstanding academic achievement, nominees for the award must exemplify integrity, selflessness, leadership, and service to the Washington, D.C., community.
AU president Neil Kerwin will present Foster the award, which comes with an engraved medal and $1,000, at SPA's commencement ceremony on Sunday, May 13.
"Volunteering is so important in building and maintaining a strong community because it really gets people to stop and think beyond themselves and explore how we're all intricately connected," said Foster.
"People often think of success in terms of the individual, but I believe that true success can't occur unless we work in such a way that improves the lives of those around us as well. Whether it's lending a hand at a fund raiser or helping out at a shelter, volunteering is what takes individuals and turns them collectively into a durable community."

A Record of Service
During her undergraduate career, Foster helped clean up D.C. waterways, boost use of the campus bike lending program nearly sevenfold, served as AU's point person in the installation of SmartBike DC stations near campus, and volunteered at the Calvary Women's Shelter, Prevent Child Abuse America, Relay for Life, and Women for Women International.
All while completing five internships, including work for Senator Ron Johnson (R-Wisc.), nonprofit conservation organization American Rivers, and NPR radio station WCPN in Cleveland, where she grew up.
Foster is now a staff assistant to Senator Johnson, working on tasks such as press releases, constituent correspondence, and research support on transportation and environmental issues.
As a freshman in the SPA Leadership Program, she took part in a yearlong research project on the impact of plastic bags on freshwater ecosystems. That work resulted in the D.C. City Council asking her to testify on behalf of the Anacostia River Cleanup and Protection Act.
That legislation resulted in businesses charging 5 cents per disposable carryout bag to discourage use.

Promoting Biking
As director for three years of the AU Student Government bike lending program, Foster promoted environmentally friendly transportation.
"I created a marketing campaign for the program based around the slogan, 'Go Green. Stay Fit. Explore,' to highlight the environmental, fitness, and freedom of mobility benefits that the program offers," Foster wrote.
"I opened up eligibility for the program to university faculty, administrators and staff, and kept the program free so that it would be an accessible form of alternative transportation for the entire campus community. Now there are over 550 registered program users, annual program-sponsored D.C. monument, cherry blossom and Georgetown bike tours, and a new locker site on [the] north side that boasts four brand-new bikes."
The Truman Scholar national finalist has advised Tulane University; the bicycle planning commission of Cleveland, the University of Pittsburgh, and John Cabot University in Rome, where she studied abroad, on biking programs.
Foster plans to pursue a graduate degree in SPA's master's of public administration program.