On Campus
Iraq Vet Graduating into Reel World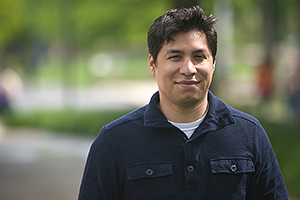 Along the way of fulfilling his family's dream that he graduate from college, John Esparza '12 got sidetracked.
Between community college in California and completing his bachelor's degree, the filmmaker and soon-to-be graduate of AU's School of Communication — whose dramatization of survival training for soldiers has been selected for showing at the sixth annual GI Film Festival in Washington, D.C. — joined the Army and ended up first in South Korea and then Iraq, where he completed two deployments as a counterintelligence officer.
"It was something I always thought about," Esparza said of joining the military. 9/11 influenced his decision, but when he joined the Army in 2003, it was more than just that.
"I felt like I had to do something to fulfill service to this country, especially since my parents were immigrants from Mexico. Since then they've become U.S. citizens. But I felt like I should do something to thank the country for allowing my parents to come here and succeed."

Love of Films
While attending community college in Los Angeles, Esparza worked at Blockbuster and took advantage of the company's policy of allowing employees to watch five free videos a week. That's when he got into independent films, especially his favorite, Memento.
But before transferring to a university to complete his studies, in 2003 he signed up to join the Army, which guaranteed him a job in counterintelligence, a field that appealed to him because he was also considering an investigative career.
After training stateside and a tour doing counterintelligence work in South Korea, he ended up in Iraq. As in South Korea, though a young private, he was quickly thrust into the thick of things, eventually leading an intelligence team near Baghdad and conducting investigations across northern Iraq.
Even when he was serving in Iraq, Esparza, who had long dreamed of making films, was watching movies. Toward the end of his second tour in Iraq, he began checking into film schools.

Back Home
After returning to the United States, he temporarily got sidetracked again. He got a job in Washington with the Defense Department doing analysis and research. But he never forgot his dream of returning to school and making films.
Encouraged by his then-girlfriend — now his fiancé — he spent a semester at the University of Tampa before coming to American University, whose film department impressed him. And that led to the making of S.E.R.E., a fictionalized account of a real program in which soldiers learn strategies of survival, evasion, resistance, and escape.
The film won SOC's Visions '12 film and video contest in the outstanding narrative production (undergraduate long form) category. Visions '12 is cosponsored by SOC's Center for Environmental Filmmaking and Center for Social Media, Interface Media Group, Sony, Will Interactive, Women in Film and Video, and others.
Esparza, who directed and produced the film, with the help of friends who did everything from cinematography to lighting and acting, raised $2,000 to build the set and film S.E.R.E. at SOC's Media Production Center.
The main goal was to get the film shown at the GI Film Festival. Mission accomplished: It will be one of only about a quarter of submitted films accepted for the festival.
"I really made it to honor soldiers that go through this kind of training," Esparza said of the film. "It's very difficult training. They're going to this so that when they get captured in enemy territory they're able to survive and get back to their loved ones. It's a very strange course to go through, but it's necessary skills that you need out there in the battlefield."

Looking Ahead
As he prepares to graduate, Esparza will soon be shooting his next project: a documentary about the guards at the Tomb of the Unknowns at Arlington National Cemetery and the intense training soldiers go through for those positions.
But for now he can savor the achievement of finally getting his degree.
"My entire family knows me as a type of person who makes a goal and achieves it," he said. "I felt this was one that I kind of put off. I joined the military and came back. I worked on films and completed them, worked on this film and got it into the film festival."
"Being the first one in my family to receive the degree is big, not just for myself but for my family. They always wanted that for me. I feel great about being able to do this for them."

S.E.R.E. will be screened at 10 a.m., May 20, at the Naval Heritage Center, 701 Pennsylvania Avenue, Northwest, Washington, D.C., as part of the GI Film Festival. The festival runs May 14–20.