Law
WCL Focuses on Human Rights in June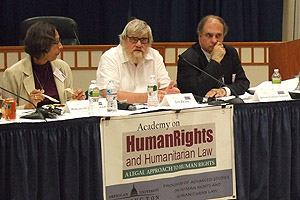 Washington College of Law's Academy on Human Rights and Humanitarian Law kicked off Human Rights Month by examining international courts and the development of international human rights principles.
The May 31 panel was the first of several the school has planned for its annual event, which includes workshops, a film festival, and site visits for participants.
The panels, which are open to the public, feature prominent experts and address relevant and timely issues.
"It's a spectacular subject for you to study," Antonio Cancado Trindade, a judge on the International Court of Justice, told the large crowd at the first event.
He was joined on the panel by Margarette May Macaulay, a judge on the Inter-American Court of Human Rights, and Leo Zwaak, a professor at The Netherlands Institute of Human Rights, Utrecht University.
Felipe Gonzalez, commissioner, Inter-American Commission on Human Rights, led the discussion on whether international courts and the development of human rights principles are a separate or collective endeavor.
"There is a closer collaboration between international courts in the sense of looking at decisions by each other and seeing what they can use and apply in a particular matter," said Macaulay. "This I submit will only add to the richness and value of decisions issued by our respective courts in advancing the respect for human rights."
Upcoming Panels
Assessing the Recent Work of the U.N. Human Rights Council: Achievements and Challenges, June 5
Protecting the Right to Freedom of Expression in a Complex World: International and Regional Challenges, June 7
The Contemporary Human Rights Social Agenda: Stocktaking of the Protection of Economic, Social, and Cultural Rights, June 12
A Look at the Recent Thematic Work of the Inter-American Commission on Human Rights, June 13
The Reform Debate and the Inter-American Human Rights System: An Appraisal of the Recent Reforms and an Assessment of the Need for More Measures, June 14