On Campus
American University Files Campus Plan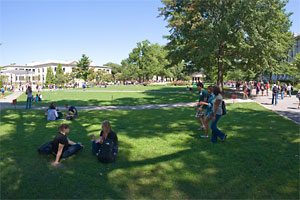 American University has filed its 2011 Campus Plan with the District of Columbia Zoning Commission—a plan that reflects AU's desire to further strengthen its growing academic prestige and continue to be an asset to Washington, D.C., and an educational, cultural, and aesthetic amenity to the surrounding community.
"Our plan is academically exciting, developmentally reasonable, and underlines our commitment to our university, surrounding community, and the city of Washington," said AU president Neil Kerwin. "Based on our academic objectives and strategic planning, the 2011 Campus Plan will enable AU to improve its facilities and conduct all elements of its important educational mission at an appropriately high level."
The proposals for the next decade are expected to result in a small (1.3 percent) growth in the undergraduate population and moderate growth in graduate and law school programs.
To support its academic objectives, AU plans to:

enhance undergraduate housing to remain competitive
provide more recreational, dining, and activity space
build a new Washington College of Law (WCL) facility at the Tenley Campus
build office space to attract and keep top faculty
The AU plan also reflects the need to:

improve science and research facilities
add athletic facilities for fitness and campus wellness
establish an admissions welcome center for new students and their parents
create an alumni center to serve graduates
A key part of fulfilling those objectives is developing an East Campus on Nebraska Avenue and providing a new home for WCL on the Tenley campus.
The East Campus development will turn the eight-acre Nebraska Avenue parking lot into a new living and learning community. Consisting of six buildings with underground parking, the East Campus is designed to accommodate 770 students in residence halls and also house the Admissions Welcome Center, Alumni Center, and administrative offices. Small-scale university- and community-serving retail spaces are planned along New Mexico Avenue. The East Campus is one of four housing sites in the plan. The last major campus housing project was done in 1986.
The proposed WCL facilities at the Tenley Campus are being designed to stay within the current campus building footprint. Capital Hall will be renovated and integrated with a new facility designed to complement its architecture, and the historic portions of the Dunblane House will be retained.
Moving the law school from its current location at 4801 Massachusetts Avenue, N.W., to the Tenley Campus, which is on a major urban corridor with Metro and bus line access, would support AU's ongoing commitment to sustainability by encouraging the use of mass transit.
The Campus Plan is expected to boost the local economy by providing close to $400 million in new construction and renovation projects, and it will provide employment and contract opportunities as well. This is in addition to the approximately $415 million the university annually contributes to the Washington, D.C., economy.
The District of Columbia Zoning Commission requires all local colleges and universities located in residentially zoned areas to submit a plan every 10 years outlining projected facilities growth and campus enhancements for the coming decade. Community residents will have the opportunity to provide comment to the zoning authorities prior to the hearings.
To read an executive summary or the complete text of the plan, or to find further information, go to http://www.american.edu/finance/fas/2011-Campus-Plan.cfm. Reference copies are also available at the American University, Pence Law, and Tenleytown-Friendship Public libraries.