On Campus
Face the Nation Host Bob Schieffer Visits AU Class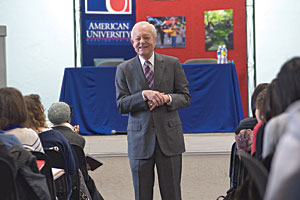 Bob Schieffer, moderator of CBS's Face the Nation, gives students in Professor Iris Krasnow's Washington Semester class the benefit of his decades of experience covering national politics at a February 16 appearance at American University.
Schieffer, the network's chief Washington correspondent, has covered the nation's capital for CBS News for more than 30 years. Schieffer has covered the White House, the Pentagon, the State Department, and Capitol Hill.
He became CBS's chief Washington correspondent in 1982 and has been a congressional correspondent since 1989. The veteran broadcaster has covered every presidential campaign and been a floor reporter at all of the Democratic and Republican National Conventions since 1972.
In 1973, Schieffer became anchor for the CBS Sunday Night News. Until 1996, he was anchor of the Saturday edition of the CBS Evening News, a position he held for 20 years. Schieffer and CBS veteran Dan Rather are the only anchors with 20-year stints on a network news broadcast. He first anchored Face the Nation in May 1991.