Environment
Legal Eagle Blazes Environmental Trail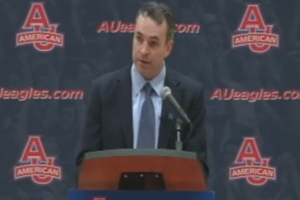 Close your eyes and transport yourself back to a place in nature you desperately love.
William Snape III is in Winter Park, Fla., in the three acres of woods near where he lived as a child in the 1970s, the spot where he caught his pet snakes.
Those woods are no longer.
"Frequently when I start my talks now, I ask people in the audience to think about a place when you grew up that was an outdoor place that you liked to play in, and I ask them, 'Does that place still exist?'" says Snape, an environmental law fellow at the Washington College of Law, where he teaches part time. "Well over 50 percent of the time people will raise their hands, and no, it doesn't exist. Obviously there are still great places like Yosemite and Yellowstone that hopefully will be with us for millennia, but a lot of private lands have been converted, and probably irretrievably so."
Snape's boyhood haunt in central Florida may be gone, cleared for yet another tract of single-family homes and strip malls, but its legacy lives on. It was there that the seeds of his brilliant career as an environmental activist lawyer were planted.
For decades Snape has worked tirelessly, using the law to protect the environment. Since coming to WCL as a visiting professor in spring 2007, he's maintained a private practice while nurturing the next generation of the earth's legal advocates as a practitioner in residence. Among his primary objectives in the environmental externship seminar he teaches is getting students placed in nonprofit environmental jobs in Washington.
"It's really fun and exciting to bring motivated students into my world, because I can tell them war stories, and not war stories from 20 years ago, but things that are happening now, particularly with global warming, and the polar bear, and the melting Arctic," he says. "I still litigate, I still lobby, so I can get students involved with real-life advocacy, whatever their beliefs are. I teach my students, if this is what the facts say, and you believe the facts, here's what a good lawyer does to move the ball and get recognition of that problem. Really no different than civil rights law, if you think about it."
The son of a physician who often took the family on camping trips along the Eastern Seaboard, Snape's legal career wasn't exactly mapped out from a young age.
"I went to law school right out of college quite frankly because I didn't know what else to do with myself," he says. Snape spent one of his summers working in a firm doing environmental work for the industry side, and while he knew that wasn't for him, he thoroughly enjoyed the blend of science and law.
"I took my first environmental law class in my third year, and the marriage just kind of took off from there," he says.
One of Snape's first positions was as a scientific fellow at Defenders of Wildlife, where he lobbied the United Nations on behalf of a high seas drift net fishing ban, which eventually was put into place. It was the first of many victories he helped engineer during a 14-year career at the organization.
"Bill is largely responsible for making us one of the top tier wildlife litigators in the country," said Rodger Schlickeisen, president of Defenders of Wildlife. "He took a fledgling program and grew it to the point where we are now. Not only is he incredibly able, but he cares an awful lot about wildlife conservation. He does his homework, he knows the devil is in the details in these things."
At 40 Snape remained passionate about the environment, but was itching for a new challenge. One morning over a bowl of cereal, a newspaper blurb about the resignation of Gallaudet University's swimming coach caught his eye.
"Over the course of the next 48 hours it was all I was thinking about," says Snape, an All-American swimmer in high school who served as an associate coach of George
Washington University's men's swimming team while he was in law school there.
After flip-flopping his résumé so the swimming stuff was on top and the legal stuff below, Snape managed to convince Gallaudet's athletic director to give him the part-time job—despite the fact that he didn't know sign language.
"I love teaching here at the AU law school, but becoming head coach at Gallaudet professionally was the most wonderful thing I've ever done."
He's managed to pick up some sign language, likening his proficiency to that of a kindergartner.
"I communicate what I want, but I'm not good at listening," he says.
Somehow, his message is getting across clearly. Last year he was named the Capitol Athletic Conference Coach of the Year.
Snape continues to advocate strongly on behalf of environmental issues. As senior counsel for the Center for Biological Diversity, he was involved in successfully lobbying the Bush administration to have the polar bear listed under the Endangered Species Act. He currently has a case before the Ninth Circuit Court of Appeals in which his client, in one sense, is the flat-tailed horned lizard.
"The reason we protect wild animals, besides the fact they're God's creation and we should be very careful about what we decide will go extinct, is almost always a wildlife species is indicative of its habitat and indicative of the human health as well," he says. "With regard to the flat-tailed horned lizard, the fact that it's declining indicates that desert areas that humans use and need are being highly degraded by off-road vehicles and water diversions. There's almost always a relationship between the animal species and the human species. When we're seeing wildlife habitat decline, that's our habitat as well. We shouldn't be allowing species to go extinct. That's like throwing out volumes in the library before we've read them."
After a lifetime spent fighting for animals, plants, and habitats that can't fight for themselves, Snape believes the most epic environmental battle remains on the horizon.
"I think global warming is not only the greatest environmental challenge to modern society, I would say it's the greatest challenge," he says. "I think global warming and our related energy issues are precisely what are behind our Middle East military involvement. I think the issue of global warming and energy is the defining issue of our day. And the law will play a very central role.
"I'm as much a coach to my students as I am to my swimmers. The students at the Washington College of Law will be the leaders who fix the problem. I genuinely and passionately believe that or I wouldn't be as excited to teach. They're thinking in new ways about the problems that we face. I love that."