Liberal Arts
Learning from Terezin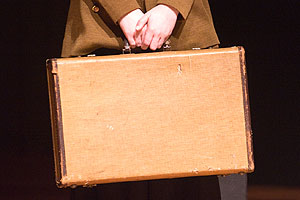 If you were ordered to leave your home tomorrow with only one suitcase, what would you take?
In the 1940s, after the Nazi takeover of what is now the Czech Republic, the Jews of Prague faced just such an order. They were being deported to a place called Terezin and had no idea what to expect.
Terezin would turn out to be a "model camp" used to delude the outside world about the nature of concentration camps. Artists, musicians, and scholars were clustered here and allowed to practice their art — at least until they died of disease or malnutrition or were deported to death camps such as Auschwitz. Children were permitted to paint and write poetry before they, too, were killed.
The art of Terezin, though, has survived. What these doomed prisoners brought with them to Terezin wasn't mainly what they could carry in a suitcase, but what they carried inside — the unquenchable urge to give voice to their experience in music, art, and drama.
This semester, Terezin has been the focus of a campuswide series of projects culminating in this week's performance of "Voices of Terezin: An Artistic Tribute in Two Parts." Cosponsored by the Embassy of the Czech Republic, it features the AU Chamber Singers' performance of Songs of Children, a musical adaptation of poems written by Terezin children, followed by the U.S. premiere of Smoke of Home, a play that incorporates a long-lost drama written by Terezin prisoners.
The Terezin project took shape during director Gail Humphries Mardirosian's Fulbright year in Prague as a Fulbright Senior Scholar, where she directed the play in Prague and in the Terezin camp, now a museum. It has expanded this year into a series of interconnected, cross-disciplinary lectures, classes, and projects that also reached beyond campus into the classrooms of Wilson Senior High School, where students learned about Terezin in a moving, hands-on workshop led by AU students.
The suitcases became a focal point of the workshop as the high-school students were asked to make decisions about what they would put in their single small suitcase. Diaries? Family mementos? Jewelry that could be exchanged for cash or food? Books that reminded them of the things they cared about?
Most students chose items that would express their identities. Yet in the end, they learned, the guards took the jewelry and the books, leaving little for the prisoners to remember their former lives. It was the ineffable — knowledge, values, creativity — that sustained them and allowed something of their experience to be passed on to the future.
"What are the things that are not tangible," they were asked, "but that you would like to own? The students — who began the workshop in a giggly, self-conscious mood but by now were quiet and deeply absorbed — came up with their own list: Pride. Hope. Respect. Courage. Knowledge.
The workshop was created by arts management graduate student Inge Sieminski.
The high-school participants, all of whom are taking history teacher Jon Shea's class on World War II for speakers of English as a second language, came into it knowing nothing about Terezin and ended up moved and changed, they said.
"You really had to think about it and imagine what it was like," said Natalia Alba.
"It's like we feel how the people leaving felt inside," said Maria Cartallenos. "If I was there, I would have been confused, sad, very angry."
"I liked the way they acted how they felt," said Ivan Gonzalez of the AU students who led the groups. The Wilson students will attend a performance of Voices of Terezin this week.
The show will be presented March 19–21 in the Katzen Arts Center's Abramson Family Recital Hall.