Student Life
Helping Students Build Memories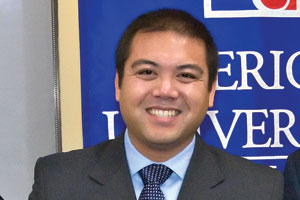 College memories are made of many things: the classes, the professors, the late nights with friends, the whole spectrum of life on campus.
It's the job of Patrick Ledesma to figure out ways to help students build their memories beyond the classroom. As assistant director of operations for the Mary Graydon Center, Butler Pavilion and the Sports Center, he has a hand in much of what happens in those popular hangouts, from film festivals to karaoke nights to game marathons.
He must have his finger on the student pulse, because hundreds of students typically show up to enjoy the events he plans.
But it was during this year's infamous blizzard that Ledesma's dedication really shined, winning him an award for service to the AU community. When the snow pummeled Washington, shutting down the city, Ledesma thought of the students.
"I thought to myself, how can I help out? Obviously the students are still here," he recalls. So with the help of his events committee, which consists largely of undergraduates, Ledesma made sure the students could get out of their residence halls and have an enjoyable time on the snowbound campus.
A movie marathon was quickly organized, featuring the entire Lord of the Rings trilogy — a good 12 hours — and, appropriately enough, a series of disaster movies.
A Wii, a Playstation, and board games were put into service for a games tournaments.
When students said "they were sick and tired of being in their rooms and wanted to move," he organized a night of dancing that drew hundreds; appropriately enough, it was called the Ski Lodge Dance Party and also featured hot chocolate.
Whenever the main roads in the District were passable, Ledesma braved the snow and ice to come to campus, making sure to arrive with big supplies of granola bars, fruit, and other treats for the many students who came to the activities.
On days when he couldn't leave his home, he stayed in touch with the events committee to find out if people were coming into the Mary Graydon Center looking for activities — they were, indeed — and to brainstorm what could be done with the materials at hand.
But Ledesma's hard work during the historic blizzard was just a heightening of the enthusiasm he's shown in his six years at AU. This year alone, Ledesma produced 23 late-night and weekend events for students, including a film series and karaoke competition.
The New York City native came to AU after holding a similar position at George Washington University, where he worked while earning a master's degree in public health. But he ended up finding the work so enjoyable that he's made a career of it.
Unless, of course, his singing hobby leads to fame and fortune.
Ledesma recently tried out for American Idol for the fun of it and got as far as the second round. Every now and then, he gets on stage at AU, too. It's just part of a day's (or night's) work for the outgoing, karaoke-playing Ledesma.