On Campus
Bender Library Gets an Update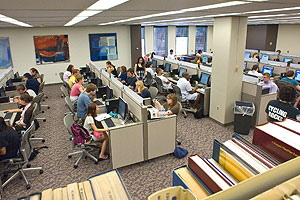 AU's library is getting a makeover for its 30th birthday.
When the Bender Library building opened in 1979, its study carrels and tables were state of the art. But student research and study needs have changed, and this summer, the library was updated to respond to those needs.
The first floor is no longer crowded with stacks. Instead, it offers a variety of seating, from six-person booths for group study to two-person collaborative work stations. There are even three group workrooms with LCD panels, including one that allows people to project their individual computer screens onto one space and work together.

"You see many more students working collaboratively. That's a trend in education, and we observe it in the library," says librarian Diana Vogelsong.

Meanwhile, periodicals that are now used mainly in electronic form were shifted to storage, freeing up more space for students who prefer to study quietly. "While some of our students want to work collaboratively, the dorms are very full, and some students just prefer a quiet space," Vogelsang says.

The space has earned rave reviews. One undergraduate commented: "The new first floor is absolutely gorgeous. I walked in and was speechless. Wow."