International
Consulting in Scotland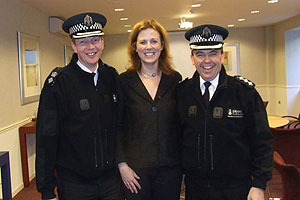 School of Public Affairs director of communications Jackie Corbett is a master's candidate in SPA's AU-/National Training Laboratories program in organization development, a participative form of consulting that draws on the social and behavioral sciences.  In the second part of the two year program students hone their international consulting skills.  In small groups, AU/NTL students consulted to four organizations in Aberdeen, Scotland—an adult literacy agency, the development office of a university, the leadership team in a Fortune 500 company and, in the case of Corbett, the police department in this Highlands district.

Here Corbett reflects on her spring whirlwind week in Scotland.

Entry

The winding roads of Aberdeenshire are particularly deadly for the young men of this district of Scotland, our group of four mid-career graduate students learned in a briefing by police.  Eighty-nine males from 16 to 25 have died on these Highlands roads since 2004, and more than 440 others suffered serious injuries. My initial excitement about the task was quickly turning into anxious energy.

The police had "owned" the problem for years. Senior department officers Ewan Stewart, Zandra Holden and others had relentlessly attacked this issue through "four E's"—education, engineering, enforcement, and encouragement. The latest approach had attempted to identify those vulnerable to serious injury—repeat offenders. It was not yet clear whether this was a success.

The police volunteered to participate as clients for our student team.  They were willing to consider whatever help we could offer. How could we help them engage the community around this issue in order to begin to solve it?  

The Engagement

Our team had just a week to research, analyze, and present the data to the police along with a design for intervention into a problem that was decades old. Hyper-speed consulting.

I had the conventional wisdom: the problem was a social one, common in rural areas. Youths were meeting up, showing off, and exploring their freedom in reckless fashion on country roads.

Naturally, we wanted to talk with our target group—males, 16-25. We crafted five questions—open-ended and yes/no—designed to measure awareness of Operation Piston, a program to mitigate the problem, the issue itself, and the level of public interest in working to solve the problem. The client was the police department; the beneficiary was the larger community

The Research

We had one day to hit the roads and conduct interviews. Our team interviewed 39 individuals including students, teachers, and shopkeepers in a suburb of Aberdeen.  In our research, we also spoke with police cadets, representatives of bereavement organizations, and other members of the community. I felt like I was being pummeled with words.

We transcribed our notes to post-its.  The walls of our bare hotel conference room were decorated with fluttering yellow data. Patterns emerged: speed, license, legislation, and social concerns. My own initial assumption—drinking as culprit – was wrong.

The Feedback

The very premise of this consulting engagement—real change in five working days!—was incredible. Our work embodied the American belief in speed, change, and power – and the OD perspective that "the answer is in the system."   

Our team's presentation of the data was the big show, as one faculty member put it. In our case, it would give the police an opportunity to see something familiar in a new way–or we hoped it would. "Remember," one of our instructors insisted, "the data belong to the client."  

Officers Ewan and Zandra paced the small conference room, examining our flipcharts ripe with data. They were immediately drawn in. The findings seemed both familiar and new in a way I hoped for.

The engagement we proposed was rich: department training in facilitation skills and a World Café, community discussions held in small groups with a possible technology component. Finally, there was even the possibility of an event based on the old Scottish New Year's tradition of First Footings.

Our faculty advisor, an OD professional and Aberdeen resident, was inspired by the project. She offered to continue work with the group pro bono. Our work was even going to be acted upon.