Environment
From the Heart of the  Galapagos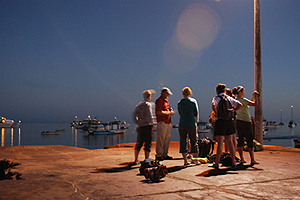 Students and faculty from the College of Arts and Sciences, School of Communication, and School of International Service are in Ecuador's Galapagos Islands exploring the complexities of environmentalism. When they get back to America, and American University, they plan to complete a host of multimedia projects about the trip.

Luckily, we don't have to wait for their return to hear their impressions. Students and faculty from SIS are blogging about the trip, and SOC professor Bill Gentile also is blogging.

SIS professor Simon Nicholson is in Galapagos, and filed this report by e-mail on May 20.

"We are now a little more than half way through our stay on the Galapagos Islands. The
scenery is picture-perfect and the hospitality wonderful. This has hardly, though, been a tropical vacation. Our students have been working hard each day, filming, conducting interviews, redrafting stories and themes, all while battling the fierce equatorial heat.

We are traveling with 24 students, divided into four groups. Each of the groups has spent the semester developing a Galapagos-focused project. Now is crunch time, as months of planning informs just a few days of frantic activity.

The work the students are doing here is nothing short of inspirational. On Saturday, for instance, I spent much of the day with the "Fueled by Nature" team. This group is shooting a 30-minute television pilot, looking at alternative energy and sustainable living. Their time on Saturday was spent largely at a new wind farm on the island of San Cristobal, which is now providing more than 50% of the electricity the island uses. The contrast between the elegant wind turbines and the noisy diesel generation facility we also visited was striking, and will make for a powerful story.

On Sunday, Bill Gentile was up at 4:30 a.m. to assist the "Fin-tastic" group. They had a 5 a.m. meeting with local fishermen to film their work on the water, and to interview them about the practice of "shark finning", which is harming local shark populations.

The other groups have been equally as productive. I can´t wait to see the rough cuts of the final projects at the end of the summer, and to continuing to work with this wonderful group of motivated, talented students."