First Person
An American in Prague: Part IV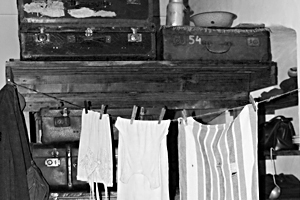 Gail Humphries Mardirosian, CAS professor, is in Prague on a Fulbright scholarship to direct a long-lost play written by prisoners at the Terezin concentration camp. Her work includes teaching acting at Prague's Academy of the Performing Arts and engaging AU students in the play and Prague's cultural life.
Check back with 'Off Ward Circle' for more stories as Mardirosian shares her experiences over the next few weeks.
Part I
April 30, 2009 - The rooftop apartment continues to ring with laughter as many American visitors continue to arrive and visit me in Prague.  I continue to delight in sharing the city with everyone who visits.  Somehow, now, it seems as if it is my city, too!  I know that I am no longer a visitor when I get stopped with great frequency and asked for directions.  It is wonderful that I can actually respond positively!

I am working on my Fulbright report and I made mention of something that merits sharing.  There is one final unexpected dimension that I need to share in terms of my entire appointment.  As an artist and arts educator, it was meaningful to reside in a country that is culturally rich and where there is a dominating respect for and appreciation of the arts.  The valuing of the arts as a cultural norm is something that does not exist in the U.S.  It is certainly something that many of us are striving for, however, and living in this environment will surely influence my perspective and actions for the future.  
This is a city that rings with theatre and music.  We attended one of the most beautiful concerts in my life, an amazing program with a piece by Ervin Schulhoff, one of the composers who did not survive the Holocaust.  I had actually selected some of his for use with the Voices of Terezin performance because I found it enticing and haunting.  Hearing that piece performed by the Czech Philharmonic in the Rudolfinum was an ethereal experience.

My classes are coming along beautifully.  It is rewarding to see the students shift in their outlook from simply wanting to be "empty vessels" that I fill, as the professor, to active participants embodying the knowledge that they seek.  I know that my pedagogy was a bit surprising for the students here.  When I explained that we would be studying acting theory and then putting the theory into practice, many of the students (aspiring film directors) headed for the door.  Others stayed and seemed to be enticed by the process.  I gave the final exam yesterday and the results were telling.  I structured my classes into two parts – theoretical background and practical application.  Students often seemed surprised by the participatory nature of the classes, i.e. learning by doing.  By the end of the semester, however, they appeared to welcome the participation and were able to make linkages between the theory and practice, evident in class discussions, exercises and the written exams.  They actually articulated the concepts into their own words and made practical linkages. I never taught film students before and this was certainly a mutual learning experience for all of us.

Showtime
The Voices of Terezin performances occurred this weekend with full houses for every performance.  The theatre that we performed in was exceptional and amazing, aptly called Divadlo Inspirace.  It was in the basement/wine cellar of the Liechtenstein Palace. It had domed and vaulted ceilings and all of the walls and ceiling were old stone - an appropriate setting for the play, which occurs in a castle prison during the 30 Years War. Myth even has it that the back hallways of this theatre—quite a catacomb—have spaces that were used to hold political prisoners during Communism. 

I wrote my director's note for the program on Monday that week and then truly lived it out over the weekend.  I think that I should share it here:

A NOTE FROM THE DIRECTOR
Last year, theatre historian Lisa Peschel introduced me to the play, Smoke of Home, and it has resonated in my soul ever since.  I am humbled to direct this production, grateful and amazed by the dedication of so many individuals who have made this production possible, and uplifted by the power of the arts to connect us to our basic humanity. 

It was important for me to begin the Voices of Terezin… the arts as spiritual resistance in the Czech Republic.  We are honored to have you with us and hope that you can join us for the production of Smoke of Home at Terezin.  It is fitting that the voices of Zdenek Elias and Ji?í Stein be heard at Terezin. 

The project will continue in America next year, as we present this play and other works from and about Terezin at my home institution, American University, and at the Embassy of the Czech Republic in Washington, D.C. Through our efforts, we hope to provide enlightenment about the enormous courage witnessed at Terezin and the hope provided by the arts. The project will also continue at other colleges and universities in the United States so that these voices can be heard across time and space.

My appointment as a Fulbright Scholar at the Academy of Performing Arts here in Prague has been a deep, rich and meaningful experience.  Working on this play has been a touching experience in my life and a vital part of my Fulbright.


There is no doubt in my mind that the entire experience of directing this project will influence my entire life. There were so many challenges in the process. I don't have an infrastructure here and often struggled just because I didn't know who to contact the right people with my requests. Mirenka Cechova, the doctoral student who worked with me on the production, was fabulous. However, she was so busy—she has eight shows in her mind/body right now and performs them in varying locations. She really came through in preparation for the play and especially during technical rehearsals, in a greatly needed capacity. We had only one day to tech-in the lighting and sound cues (as opposed to a few days in the US) and our lighting designer spoke no English!  It worked out fine because she and I have developed an interesting synthesis and outlook and she was my voice. I am going to support her application for a Fulbright, as she completes her studies. She has much to share with her intensive focus on non-verbal and avant-garde theatre and her virtuosity as a performer.

Now, back to the production. Five days before we opened, one of the Czech actors was told that he was obligated to a contractual agreement for a major commercial shoot out of the country. The shoot schedule was advanced by a week and a huge fine would have been imposed on him, if he did not fulfill his obligations. Imagine my response when the agent called to tell me about this. Well, they found another Czech actor to take his place and actually paid stipends to all of the actors for the additional rehearsal time needed to mount the show. It was a tense and difficult few days. We ran the script so many times that I think I know every line.  However, this actor was amazingly seasoned, had strong skills in English because his MFA was from UCSD and we made it. He even did the entire performance off book!  Just writing about this astonishes me. Ah, the adventures of live theatre.

As to the most moving moment for me…immediately after the second production a lovely older Jewish lady came over to me and grabbed my hands. She repeated thank you over and over to me. She said, "I lost my youth in Terezin and watching things like this makes me feel better.  The arts were important there.  They mattered for survival."  Yes, it was worth facing all of the obstacles for just that one moment.

There was also a lovely article in the Prague Post. The writer captured the essence of our work quite vividly as he noted "Decades after its demise, this Nazi holding camp (Terezin) is still producing art. There is, perhaps, no greater monument to the transformative power and vitality of theater than the upper barrack rooms at the Terezin concentration camp." I know and believe in the power of theatre to teach, to reach, to touch and even to heal. I have lived that yet again in my magical and mysterious Prague.