Arts and Culture
An American in Prague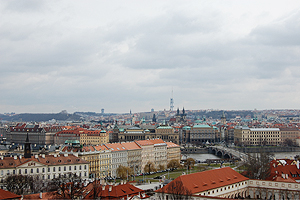 Gail Humphries Mardirosian, CAS professor, is in Prague on a Fulbright scholarship to direct a long-lost play written by prisoners at the Terezin concentration camp. Her work includes teaching acting at Prague's Academy of the Performing Arts and engaging AU students in the play and Prague's cultural life.

Check back with 'Off Ward Circle' for more stories as Mardirosian shares her experiences over the next few weeks.


Anticipation

I feel like the image and music of An American in Paris, but instead of Gershwin, I hear the sounds of the Vltava or Moldau ringing in my ears and I am dancing on the Charles Bridge with the Prague Castle hovering above.

I began my journal for this project in September 2008, when I flew to Prague to plan my Fulbright experience.  I wrote in my journal about the journey to the unknown—how you project and imagine, but you do not know.  I also wrote back then:  "As you [live an] experience, things change and that evolution is everything." 

Well, I am living that now.

First Impressions
A friend once described Prague to me as an exquisite jewel box.  I am just beginning to open it.  There are literal and figurative colors and textures I could not imagine before Prague.  There is an instinctive resonance here for me—perhaps because of my Czech heritage, perhaps because of the respect for the arts that is at the very core of this culture.

My first few weeks' experiences here have been exceptional. I love the teaching. I do feel as if the world is in my classroom.  Students from all over Europe attend  this Erasmus program. And here we are—looking out on the Vltava from beautiful large classroom windows with students from Israel, Finland, Sweden, Germany, England, Serbia, the Czech Republic, and the U.S.—all working on theatre.

Voices of Terazin
And then there is the project I created with partners I met since my initial grant application: Voices of Terezin . . . the arts as spiritual resistance.  The collaboration that this project represents astonishes to me.  The one common thread is that all of us are dedicated to bringing these voices to life through the theatre.  The hardships endured at Terezin and the courage of these people is astonishing. 

Three Czech actors, one American (who is fluent in Czech) and a British actor will take on the challenge of presenting the play "Smoke of Home" on May 20.  The play was discovered in 2006. It was written by two young men incarcerated in Terezin, longing for home—a home they knew was changing as World War II was fought while they remained at Terezin—only to be sent to Auschwitz later. It is a strong piece of theatre, but was never performed at Terezin. 

Now, the surviving wife of one of the playwrights will actually attend the May performance. It is important to me that the play is performed in Prague and at Terezin first . . . then the voices will be heard in the U.S.
This will probably be the most challenging experience in my directing life. I hope I can live up to my obligations here as a director.

Arts and Culture in Prague
When I saw the Attic Theatre at Terezin last week, I thought of the enormous power of the arts at the most difficult times for individuals.  I am developing a friendship with the head of visual arts at the Jewish Museum, and she shared an important thought.  She noted that the arts at Terezin were a compelling example of "the arts as a strategy for survival."  This thought is sobering and just holds me in my tracks for a moment.  I somehow understand this.

A Commencement and Thoughts on Arts Education
On another note . . . I recently attended my first European commencement.  It was magnificent to sit in the Karolinium and watch professors and doctoral students march.  The ceremony had wonderful ritual, the organ music filled this historic space, and I was reminded about my personal reverence for the process of education.  One of the doctoral recipients is also becoming a good friend and I was invited to attend along with other friends and family.  We share mutual interests in the arts for social change and even admire some of the same activists, such as Augusto Boal.  We are planning a workshop together for Czech students at a small college where she teaches.

Then there is also the upcoming presentation on arts education at Charles University.  It is thrilling to think about sharing the Imagination Quest (IQ) model (which I  helped develop back home in D.C. and Maryland) with students, teachers, and faculty in the Czech Republic.

The professor of education I have connected with is interested in educational reform and finds, as I do, that arts-based teaching and learning can deliver equity in the classroom.  I will show our DVD to share IQ in action and then present a lecture and workshop. We shall see how that works out!