Professional News
Staff Years of Service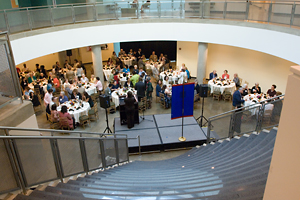 Updated May 13, 2009. AU' s staff members who have achieved a 5-, 10-, 15-, 20-, 25-, or 30-year milestone in the past year will be honored in the years of service events scheduled for May.
The 5-, 10-, and 15-year luncheon will be Tuesday, May 19, while the 20-Year Club celebration will be Wednesday, May 20. The Staff Appreciation barbecue and volleyball tournament will be Thursday, May 21.
Staff years of service anniversary is based on the date of full-time hire and total length of full-time service. There may be staff who, due to a separation from the university or a period of part-time work, do not appear on the list below. If you believe this to be the case, or if your information is listed incorrectly, e-mail StaffAppreciation@american.edu to request a years of service verification.
5 Years of Service
Office of the President
Robert Acunto
Matthew Corkery
Anthony Hayes
Jefferson Kinney
Matthew McCleskey
Office of Finance
Patrick Anorue
Ethel Banks
Alberta Bridges
Maryjeanne Danner
Keith Derricotte
Mario Escobar
Marico Hawes
Curtis Hilliard
Mounirah Khadar
Clement Lim
Tarek Mahfouz
Michael McNair
Thomas Nguyen
Derrick Osborne
Norman Porter
Raul Reyes
Melanie Ringle
Rodrigo Romero
Tenisio Salburo
Jasbeer Singh
Charles Vernon
Benjamin Wall
Office of the Provost
Lena Armentrout
Daniel Crowe
Angela Dadak
Brita Doyle
Sara Dumont
Joan Echols
Kathryn Ezekiel
Catherine Gannon
Patricia Harvey
Jia Jiang
David Kaib
Kristin Leonato
Nadine Marks
Daniel Masis
Ethan Merritt
Soudabeh Nayeri
Kelleen Nolin
Kristi Plahn-Gjersvold
Luz Saez
Jonathan Silberman
Ekaterina White

Office of Campus Life
Lorenley Baez
Joanne Benica
Scott Jones
Catherine McDonald
Christopher Moody
Lori Reynolds

Office of Development
Seth Speyer

10 Years of Service
Office of the President
Maralee Csellar
Michelle Fleitz
Linda McHugh
Kojo Nnamdi
Office of Finance
Nahlah Alsiryani
Denis Cofer
Karen Connolly
Judith Feely
Yolanda Francis
Brenda Harner
Hanh Huynh
Deadre Johnson
Robert Parker
Vaness Sampay
Marilyn Shields
Hung Tran
Anna-Maria Vincent
Alef Worku
Office of the Provost
Francine Blume
Maria Caballero
Karen Cedeno
Maria Green Cowles
Arji Farran
Kimberly Jenkins
Robert Kelshian
Walter Labitzky
Travis Lawson
Amy Robertson
Diego Rodriguez-Pinzon
Katherine Simpson
Stephen Wermiel
Julie Wickham

Office of Campus Life
Wanda Collins
Chemayn Gray
Linda Mass
Donald Treter

Office of Development
Tia Ward
15 Years of Service
Office of the President
Barry Goldberg
John Holt
Office of Finance
Marie-Lucie Argant
Lillian Arneson
Roberta Goldstein
Larry Johnson
Paul Miller
Jude Onyebuchi
William Suter

Office of the Provost
Vanessa Anthony
Luis Batres
Jolanta Coleman
David Jaffe
Rose Ann Robertson
Keri Thorn
Nathan Williamson
Sharon Wolfe

Office of Campus Life
Senem Bakar
20 Years of Service
Office of Finance
Rowland Aquah
David Conn
Andrea Dukes
Latricia Fleetwood
Samuel George
Victor Gordon
Paul Hardy
Shing Li
Lawrence McCarthy
Elizabeth McGuinness
Tsegaye Mergia
Marvette Smith
Jose Suarez
David Wilson

Office of the Provost
Elma Gates
John Hyman
Sandra Linden
Wayne Mason
Fesseha Mengesha
Umme Salim
Jerome Sheridan
Sonia Spurlock

25 Years of Service
Office of the President
Wendy Beckerman
Kevin Grasty
Marjorie Neumann
Office of Finance
Nazareth Reyes
Mark Welch
Frank Wilson

Office of the Provost
Anne Kaiser
30 Years of Service
Office of Finance
Ralph Castiglione

Office of the Provost
Ronald Carlton
Antoinette Glover

35 Years of Service
Office of Finance
Myle Luong

Office of the Provost
Linda Bolden-Pitcher
Violeta Ettle

40 Years of Service
Office of Finance
Donald Myers

Office of the Provost
Glenna Haynie