Professional News
Mardirosian's Newest Take on Brahms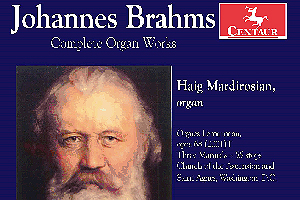 Brahms and Haig Mardirosian go back a long way. The recent release of the complete Organ Works of Johannes Brahms by the longtime AU music professor and administrator is a reminder of that longtime relationship, which goes back on vinyl to 1974, when Mardirosian made his first solo recording.
That earlier record has sold well over the years, and Centaur Records recently asked Mardirosian to record more Brahms—this time, at Washington's Church of the Ascension and Saint Agnes. "Few artists have the opportunity of revisiting their earlier recorded work," Mardirosian notes, but he had a chance to do that and more with this recording of four early preludes and fugues and the op. 111 Choral Preludes.
Mardirosian, AU's senior vice provost and dean of academic affairs, is departing this summer for the University of Tampa in Florida, where he'll be dean of the College of Arts and Letters. Fans will still be able to enjoy his virtuoso organ playing with his latest CD. It's available through the Web site of Centaur Records, the largest independent record label in the country.