Professional News
SPA Advisor Promotes Federal Service at D.C. Event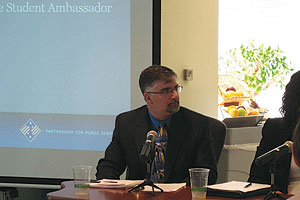 Career advisor Travis Sheffler talked up jobs in the federal government, July 21, at a panel discussion hosted by the Washington nonprofit, the Partnership for Public Service.
Sheffler, a pre-law and School of Public Affairs advisor, spoke to 36 student ambassadors from across the country about how to work with administrators and career counselors to promote careers in the public sector.
"I trained them to work with and advise other students, and prepared them for the kinds of questions they'll face," explained Sheffler, who sat on the panel with advisors from George Washington and Georgetown universities.

"It was great to see the excitement that students had around promoting federal service," he continued.