Technology
Sandell Wins Prestigious Leadership Award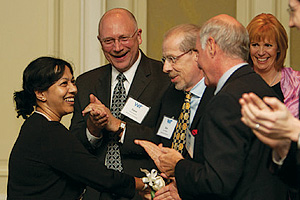 Kamalika Sandell, senior director of enterprise systems, has received the 2011 Leadership Award in Education IT from Women in Technology (WIT).
The awards recognize women in the Washington area who excel as mentors, leaders, and role models in their professional endeavors and communities. Provost Scott Bass, chief financial officer and vice president and treasurer Don Myers, executive director of communications and marketing Terry Flannery, and assistant vice president and chief information officer Dave Swartz were among those who attended the awards ceremony.
"It's a huge recognition, but what really touched me was the show of support from the university," Sandell said. "To share it with them and the other individuals, not just the award winners but the finalists, meant the world to me."
Technology has changed dramatically in the 12 years since the awards were founded, Nanci Schimizzi, president of WIT, said in a statement.
"It is not only the engineers and scientists who are making an impact on technology, it is also the enablers of technology—health-care providers, law enforcement, universities, government organizations, and more," she said. "The women honored at this event are true architects of change in the technology community at local, national and global levels."