International Success Story
Saving the Dead Sea in Israel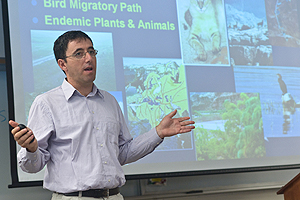 The Dead Sea is dying.
With each passing year the sea's depth drops by 1.2 meters, almost 4 feet, yet Gidon Bromberg refuses to consider its demise inevitable. His goal: the ecosystem will be restored, and it will be done by Jews, Christians, and Muslims working in concert.
In a part of the world with no shortage of problems, the environment often takes a back seat. It has a champion, however, in Bromberg, WCL/LLM '94. Working from a blueprint he developed at AU, he has devoted his life to restoring the Jordan River valley.
"There is no place on the planet similar to the Dead Sea," Bromberg says from his office in Tel Aviv, Israel, where he runs the organization EcoPeace. Stunningly beautiful, the Jordan valley has desert, mountains, green oases, and a heritage 12,000 years old. "For all three religions the river has a high importance, and yet we've completely destroyed it."
The sea's main water source is the Jordan River, today in a great state of peril. Littered with sewage, agricultural runoff, and pilfered of its water primarily for use in farming by Israel, Jordan, and Syria, the river's diversion is directly responsible for 70 percent of the Dead Sea's water level decline. The rest stems from mineral mining.
The Dead Sea was 80 kilometers long a half-century ago, about 50 miles. Today, it's only 31 miles long and shrinking fast.
Bromberg's Washington College of Law thesis on the environmental implications of the Middle East peace process intrigued many people around Washington, leading to a conference on the topic in Egypt and the founding of EcoPeace.
Today, its 38 staff members and hundreds of volunteers work in offices in Tel Aviv, Bethlehem in the Palestinian West Bank, and Amman, Jordan, lobbying governments to adopt environmentally favorable policies and trying to stimulate public awareness of the ecosystems at the grassroots level.
"He's committed to bringing Palestinians, Jordanians, and Israelis together to see how they can cooperate," says Nader Al-Khateeb, EcoPeace's Palestinian director. "He's a citizen of this region and cares for its future."
Like the obstacles to peace, the prospects of rejuvenating the Jordan River and the Dead Sea are daunting, yet Bromberg is convinced both can be achieved.
"The environment is a great impetus for peace building," he says. "What we do in our work is turn things around and look at how we could all benefit if we cooperate."
Adapted from the article "Saving the Dead Sea," American magazine, spring 2007.