Alumni Profile
When Eagles beat the mighty Hoyas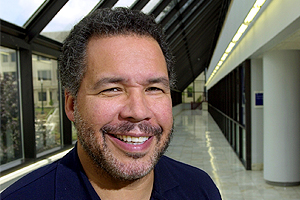 Before he was one of the 30 coaches at the pinnacle of professional basketball, Ed Tapscott '80 led AU to one of its biggest basketball wins.  
Tapscott, now head coach of the NBA's Washington Wizards, was on the sideline 26 years ago when his unheralded Eagles shocked the college basketball world by taking down the mighty Georgetown Hoyas.  
Despite coming off back-to-back 20-win seasons, AU was a prohibitive underdog to a Georgetown team ranked fifth in the nation and stocked with future NBA all-stars. Those Hoyas teams didn't just beat their opponents, they scared them into submission. But AU refused to be intimidated.  
"We knew we could play with them," says Gordon Austin, who scored some huge buckets for AU that night. "Coach Tapscott treated it like it was a normal game. He made the point to respect them, but not to fear them. We started off playing very well, and they were not. They were playing right into our hands, shooting long jumpers—and we were getting all the rebounds."  
AU took a double-digit lead into the locker room, but Georgetown mounted an expected second-half comeback that AU scrambled to hold off. When the final buzzer sounded, the scoreboard read American 62, Georgetown 61. 
 "I was happy to see that clock wind down to zero, that's for sure," says Tapscott, who went on to a long and distinguished career as an NBA executive before taking over the Wizards head coaching job earlier this season. "It was a wonderful moment for our program. I think it gave us some sense of appreciation at AU that basketball could play a significant role on campus."