Alumni
For Shalay Ward, It Was Always Accounting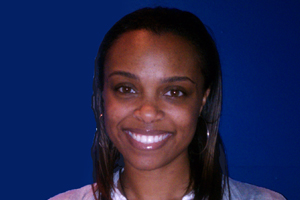 High school accounting is a class most teenagers would avoid. But Shalay Ward, MSA '11, really enjoyed it. She knew from that point forward she wanted to pursue a career in accounting.
"It just clicked with me, it was a light bulb moment," Ward said. "I definitely think that it will continue to challenge me. That's what has kept me interested almost eight years later."
She now works at KPMG—one of "The Big 4" international accounting firms—as an associate in the federal audit practice.
One of the things that Ward likes most about working in auditing is that no day is the same. "Depending on what client I am assigned to, and the timeline for the audit, depends on how busy I am," she said. "I have the opportunity to meet and work with CFOs of companies and am exposed to many different types of accounting."
Her work includes examining clients' financial statements and reporting procedures to confirm accuracy. More than 50 percent of the audits she works on are government-related—an opportunity unique to Washington, D.C.
It All Started With Internships
A local native, Ward wanted to return to D.C. to attend graduate school. Her fellow KPMG interns recommended Kogod's graduate accounting program.
Ward interned at KPMG's D.C. office twice—in recruiting and federal taxation—while working on her undergraduate degree, and a third time prior to starting her MS in Accounting.
"Internships are invaluable," she said. "They help you decide on a career path and don't leave room for surprises once you're out in the professional world."
After visiting AU and submitting her application, Ward received a call from the program director, who spoke to her personally about the program. "It made me feel welcome," Ward said.
While at Kogod, Ward took the Fall 2010 International Dimensions in Management course. Following an in-depth analysis of Brazil's economy in the classroom, the class traveled to Sao Paulo and Rio de Janeiro. Ward had never studied abroad before.
"I was able to learn from so many different experiences [at Kogod]," she said. "I built a lot of great relationships, all while creating a knowledge base that I'll draw on for the rest of my career."
Ward hopes to gain more commercial experience while at KPMG, and potentially move into auditing state and local levels of government in the future.