Internships
Student Snags Dream Internship at Morgan Stanley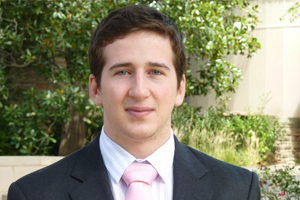 While some students spent their summer days at the beach or barbeques, Everett Indart, BSBA '12, spent his summer interning with one of the top global financial services corporations, Morgan Stanley.
Indart worked on the company's pharmaceutical services and distribution team, covering health care supply chain companies as the Equity Research Summer Junior Associate.
"The position involves not only analyzing companies in depth and generating investment ideas, but also communicating those ideas to clients," he said. "I could see myself in equity research as a career, and I hope to work, here, at Morgan Stanley."
Kogod's annual New York City Finance & Real Estate Trip played a big role in shaping Indart's career aspirations.
"It inspired me to pursue a career in finance, and I hope other students continue to take advantage of this wonderful opportunity that Kogod provides," he said.
Each morning, in his role at Morgan Stanley, Indart got a jump-start on any news or earnings releases that could have affected the stocks his team covers. If substantive information was released, he helped write comments and update models to reflect the team and company's views.
Part of his day was also spent supporting his team's priorities, from building financial models to performing sector analysis to helping clients with data requests and trade ideas. In his free time on the job, Indart worked on a summer project constructing a model that forecasts industry profits from upcoming drug launches.
"Much of the finance-oriented material I learned in classes was directly applicable to my role within Morgan Stanley this summer," Indart said. "In my opinion, Kogod prepared me well for the full-time world."