Students Earn Bylines, Gain Experience at USA Today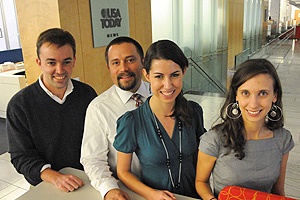 Four School of Communication students who landed positions at USA TODAY say they were well-prepared to work for the Nation's Newspaper but still found a lot to learn.

"Going through the editing process and seeing how this is done has taught me a lot about the economy of words," said Kristen McGrath, graduate student and this year's USA TODAY fellow. "I have learned much from handing in a story that I'm convinced needs to be 600 words and learning that the same story can be told better in 450 words."
Cooper Allen, SOC/MA '09, said he developed "a real appreciation of how stories can be improved by having editors and reporters working together to produce the best possible product." Sometimes that editing can be painful, at least at first, said Lindsey Anderson, a sophomore and Campus News editor of The Eagle, AU's student newspaper.  "[Initially] my articles were returned full of questions and comments in red. But that doesn't happen anymore. I like to think I've improved." Her advice to other interns: "Each comment and criticism only makes the story so much better; take the criticism and use it."
All of the interns were surprised at how quickly USA TODAY put them to work covering events and writing for the paper and website.  "It was exciting to have quite a bit of responsibility right off the bat and see my byline within a month of my start date," said McGrath.  Allen, who spent his internship working on the online news desk, was later hired to write elections briefs. "Because of my interest in politics, that was certainly the highlight."
The experience was a good one because SOC had prepared them well, they said. "Beginning with boot camp, where we were taught the fundamentals of reporting, through the remainder of our coursework, our professors instilled and honed our ability to exercise news judgment," said Allen. "Beyond that, working with the online desk, it was important to have a solid grounding in digital skills and online journalism, which AU's graduate program certainly provided." McGrath said her internship and coursework "complement each other."
An internship is a key part of the SOC experience, and the school's student advisors work with AU's Career Center to provide every student with opportunities to get on the job experience.  Career Center advisors Minna Morse and Felicia Parks work exclusively with SOC students, providing them the skills and access to land a position that will help them achieve their career goals.