Internships
MBA Interns Get Hands On in Africa, Mexico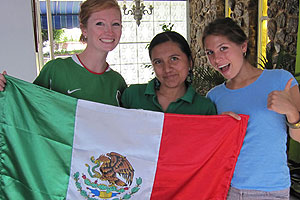 Extreme heat, jam-packed buses, and bumpy roads – these are the only things Denise Phelps, MBA/MA '11, could have done without at her summer internship.
It certainly was not the typical commute to downtown D.C.; traveling through West Africa was a challenge for this second-year MBA student.
But her internship with GlobalGiving's In the Field: West Africa program was simply "amazing."
"I experienced things that I never thought I would in Africa," Phelps said. "This internship gave me the ability to spend time with people in the community that are working hard towards improving their community and learning about different strategies that they are implementing to accomplish their development goals."
GlobalGiving connects donors in the U.S. with community-based projects around the world. Phelps and her teammates are tasked with checking in on current projects and finding new ones in Ghana, Togo, Burkina Faso, and Mali.
"[We] checked the legitimacy of projects…, conducted capacity building workshops with local non-governmental organizations, and met with local study abroad directors to help them connect their students with local volunteer projects," she said.
"It was great to see so many innovative ideas being developed without direct influence or management from the outside world."
Now her work with Global Giving is over, and she has moved to the other side of the continent to work with Yehu Microfinance in Mombasa, Kenya through early August.
"[They] provide small business loans to women to get them and their families out of poverty," she said. "I will be helping them develop their marketing plan and a new product development strategy."
Even though she is still developing her career goals, Phelps says her trip to Africa has "opened my eyes to new opportunities and ways to leverage my business skills."
Across the World
While Denise developed community projects in Africa, Giselle Rayner, MBA '11, has been trying to promote Corporate Social Responsibility (CSR) from within.
She's spending her summer in Cuernavaca, Mexico interning for ES Global. This consulting firm has Rayner and two other interns developing an in-house Corporate Social Responsibility project.
"Basically we are putting together a Brand Value Index that will show how CSR activities add to a company's bottom line, in terms of profit," Rayner said. "The work is challenging but I am learning a great deal about CSR from a global context."
So far her favorite part about the job is where she's living.
"Mexico is a beautiful place," she said. "[I love] just being in Mexico and getting to see the vast differences in working here as opposed to working in the U.S."
She says her internship has been the perfect fit with her interests in CSR and economic development, as well as giving her an international experience.
"I think that companies can and should contribute to the world's social issues," she said. "I also think that they can do this while adding to their bottom line, so it's a win-win."
Giselle and Denise have been chronicling their experiences as part of the Kogod School of Business blog series. Links can be found in the Quicklinks sidebar.