Student Life
Undergraduate Transfer Student Does It All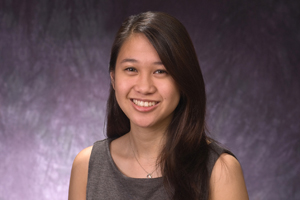 One of the best decisions Amy Marcelo, BSBA '12, has ever made was joining K-LAB's 1955 Club as a peer mentor—its members serve as Kogod ambassadors during AU admission days and recruitment events.
After transferring to AU in the spring of her sophomore year, Marcelo wasted no time doing for others what they had done for her.
"Starting over at a new university, I wanted to be involved in a leadership position," she said. "I've helped many Kogod transfer students make the transition and balance their heavy course load. I know what it's like to face a brand new start."
Aside from her work with new students, Marcelo helps plan and organize year-round events as one of the Kogod Marketing Association's liaisons.
She loves wow-ing people with innovative ideas for events and products. Coupled with her interests in foreign languages and understanding other cultures, a specialization in international marketing was a natural choice.
Extra Extracurriculars
Beyond campus, Marcelo has had three internships and studied abroad in Rome.
"I always wanted to learn the Italian language so I thought 'Where best to learn the language and fully immerse myself than in Italy?' I traveled a lot and have so many fond memories," said Marcelo.
Back in the U.S., she interned with Allied Integrated Marketing in D.C. "I worked with an amazing team and had the opportunity to screen motion picture films before they are released in theaters," she said.
Previously, she interned at National Geographic in their Home Entertainment Department, researching, performing product quality checks, and creating DVD covers. She then worked in online marketing at the Institute of International Research in New York. Marcelo returned to National Geographic as an Ad Sales and Partnership Marketing intern last fall.
"I've interned a lot because there are so many different fields within marketing, I want to get the most experience that I can."

Long term, Marcelo hopes to focus on cause-marketing campaigns or possibly work at an international advertising agency. She would also like to continue traveling and eventually apply for an MBA.
Her greatest advice to current students: "Be happy and live life to the fullest by keeping an open mind and pursuing everything that interests you," said Marcelo.
Post-graduation update: Amy is now interning with TOMS shoes in Los Angeles working on marketing and communications. For every pair of shoes purchased, the company's One for One program gives a new pair of shoes to a child in need.