Internships
A "Million Dollar" Internship in Luxury Real Estate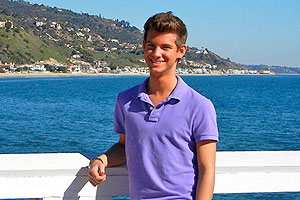 Not many internships come with beachfront property, but Matthew Shukaitis's internship does.
Shukaitis, BSBA '13, is spending this semester as an intern for Madison Hildebrand, Malibu real estate mogul and co-star of Bravo's television hit "Million Dollar Listing." The show, which premiered its fourth season on February 3, also stars luxury real estate agents Josh Flagg and Josh Altman.
If you're not jealous enough already, Malibu's forecast for the week includes full sun and temperatures in the low 60s.
Shukaitis spends his sunny Southern California days interning fulltime for Hildebrand: scheduling home showings, working with prospective clients, helping with open houses, managing Hildebrand's Facebook and Twitter accounts, and creating digital and print advertising for properties. 
Road to the West Coast

A Pennsylvania native, Shukaitis's family used to vacation in Malibu and he fell in love with the area. He'd always been interested in real estate and wanted to spend summer 2010 in California, so Shukaitis researched the top real estate agents in Malibu and sent them his résumé. After snagging an internship with Hildebrand last summer, Shukaitis decided to return to the position this spring.
"It's something different every day, and in real estate, every deal is unique, so it never gets old," Shukaitis said.
Real estate just might be the career for him.
"You get to interact with so many different people who are really interesting," Shukaitis said. "We have a few celebrity-owned listings, so it's always cool to be able to see their home in person, then see articles about the property in magazines and newspapers."
Fame and Fortune

One time, JCPenney was doing a photo shoot with Cindy Crawford at one of Hildebrand's listings, so the real estate team wasn't able to show the property for a week, Shukaitis said. He and Hildebrand were at lunch one day, talking about how to get more exposure on that particular listing, when Shukaitis mentioned how cool the photo shoot was and asked when the house would be available. Madison immediately quieted him: turns out Cindy Crawford and her family were sitting right next to them.
Shukaitis has not only gotten a glimpse of the world of luxury California real estate, but also a peek into the making of reality TV shows and the lively fan base the Bravo show produces.
Over one million viewers are expected to tune in to each episode of "Million Dollar Listing" this fourth season, according to AOL's consumer finance site WalletPop. The show first premiered in August 2006.

"We get fans who call in daily trying to talk to Madison," Shukaitis said. "A few of them are a bit crazy and challenging to deal with."