Student Success Story
Student Reports for Associated Press from Taiwan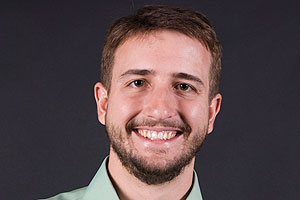 BANGKOK, 16 August 2009 -- Two weeks ago I stood on the remains of a mountain village in southern Taiwan. Fifty feet of boulders and mud dislodged from the top of a nearby mountain by rains from Typhoon Morakot lay between me and at least 200 people buried as they slept. I picked up my camera, and I did what the Associated Press' Taiwan team and I had been doing for the last four days – I documented the pain in the face of a survivor's relative coming to terms with the likely death of unrecovered family.
Riding back from the village to the nearest undestroyed town with a local truck driver, a colleague struck up a conversation in Chinese with one of the teenagers sharing the floor of the pickup. The teenager wasn't volunteering with cleanup efforts, as we had assumed, but had returned to see the final resting place of 20 of his relatives, his entire extended family, buried under the landslide seven days before while he was at work in a nearby town.
His monotone speech and expressionless face as we rode back to what would be, for us, the first stop of our journey back to Taipei and a hot shower, joined the faces of the hundreds I had filmed as they fled villages cut off from the outside world. Many waited for any sign of relatives, or stood where a father's or daughter's house used to be and wept, burning incense and crying out for the soul's spirit to make the journey back to earth and to be at rest.
My camera was shoved away, rained on, glared at, and pushed under a bridge to film a body being winched up from the mud. The AP team in Taiwan - a photojournalist, videographer, and print reporter - moved constantly forward, following leads from Buddhist monks housing refugees, hitchhiking into destroyed areas with supply trucks and 4 x 4's, and debating the hazards of a homemade cable pulley over a raging river.
At the end of the week, riding back on that truck with the young man who had lost every aspect of home he had ever known, I struggled to find a reason for being there, a reason beyond the news media's fascination with death, and humanity's morbid curiosity. Read more from David Coffey on the Foreign Correspondence Network Web site.