Achievements
14 Fulbright Scholars Set New School Record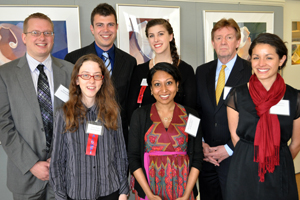 American University celebrates a new school record with 14 Fulbright Scholars and one alternate. Eight scholars earned research grants, four received English Teaching Assistantships, one secured a Critical Language Enhancement Award in addition to a Fulbright Grant, and one landed a new Fulbright Public Policy Fellowship.

The Fulbright Program is the flagship international educational exchange program sponsored by the U.S. government, designed to increase mutual understanding between the people of the United States and the people of other countries. It provides participants--chosen for their academic merit and leadership potential--with the opportunity to study, teach, and conduct research while exchanging ideas and helping to find solutions to shared international concerns.
Alyssa Frederick, CAS/BA '12, will use her award to conduct a comparative analysis of coral bleaching in New Zealand. Afterward, she plans to expand her research into a doctoral thesis in the U.S. Her long-term goal is to become a professor of marine ecology and make outreach, especially to K-12 audiences, a key component of her professional endeavors.
But Frederick's research plans weren't always so clear.
"Paula Warrick [director of the Office of Merit Awards] and Associate Professor Kiho Kim were instrumental in the successful crafting of my personal statement and project proposal," she says. "We wrote over 10 drafts of each, with each version better at bringing all my ideas together onto one page."
Isabelle Zaugg, SOC/MFA '13, also benefited from the assistance she received from the Office of Merit Awards.
"The advisors' expertise made it a much smoother application process," she says. "They supported me all along the way, and now they're celebrating with me!"
An MFA candidate in the School of Communication's Film and Electronic Media program, Zaugg's project is a response to the recent growth of the Ethiopian film industry, which has not been matched by an increase in qualified film professionals there. In the hope of encouraging more young people to explore careers in media production, she will work with arts education students from Addis Ababa University. Together, they will develop a series of filmmaking workshops for adolescents, whose productions will be broadcast nationally on Ethiopian Television.
This year's Fulbright Scholars encourage AU students to consider applying to the program as well.
"The Fulbright process provides an opportunity for you to reflect on what you really want out of your academic experience," says Trish Ward, SIS/BA '12. "This is a once-in-a-lifetime chance for you to conduct research on a topic of your choosing for your own personal interests. You are answering to yourself at the end of the day and will meet amazing colleagues in the field who are interested in similar work."
Ward will carry out her research in Toronto, Canada as a visiting scholar at the Centre for Refugee Studies at York University. Her project will assess the economic integration of highly skilled Iraqi refugees who have been resettled there.
Even if a candidate is not selected as a Fulbright Scholar, says Zaugg, the application experience may still prove beneficial.
"This is great practice in applying for competitive grants," she says. "It's an incredibly important skill for independent filmmakers, academics, scientists, and students pursuing terminal degrees to have. By working on this esteemed application with the pros in Merit Awards, you can get a crash course in crafting effective project proposals."
AU's 2012 Fulbright Scholars include Rebecca Anderson, Paco Cantu, Alyssa Frederick, Hannah Herbert, Doug Keillor, Kate Lindsey, Grant Livingston, Roushani Mansoor, Lauren McKown, Maria Ramirez, Natassia Rozario, Trish Ward, and Isabelle Zaugg. Alternate Lindsey Anderson will study in Peru if awarded.