Achievements
Three Juniors Awarded PPIA Fellowships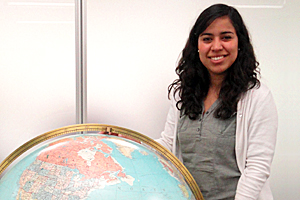 For the third straight year, the Public Policy and International Affairs (PPIA) Program has selected AU juniors as Fellows for its highly competitive Junior Summer Institutes.

AU's recipients, Nora Brito (CAS/SIS/BA '12), Jake Chan (CAS/SIS/BA '12), and Brian Chang (SIS/BA '12), will spend approximately seven weeks this summer studying economics, statistics, and policymaking at two of the nation's top schools for public policy and international affairs. Brito and Chang will attend the PPIA program at Princeton University, while Chan will study at the University of California, Berkeley.

"The experiences and knowledge I gain through the program will make me a more attractive candidate when applying for jobs in the future," says Chan. "I also hope to meet fellow students from throughout the country who share similar interests and goals."

Of the PPIA's 570 applicants this year, only 111 were selected as Fellows.

PPIA prepares young adults for an advanced degree and, ultimately, for careers and influential roles serving the public good. The summer program focuses on American and international students from groups that are underrepresented in leadership positions in the government, nonprofit and international organizations, and other institutional settings.

"Since I am a permanent resident, I am not eligible for most scholarships and fellowships that are only available to U.S. citizens," says Chang. "Thanks to PPIA's focus on diverse student groups, I was able to apply for this fellowship."

Brito, Chan, and Chang all possess high GPAs, relevant internship experiences, and academic histories that show their dedication to pursuing graduate education and careers in public service. The PPIA Junior Summer Institutes' educational and developmental programs span from the end of a student's junior year in college to the completion of a master's degree in public policy, public administration, or international affairs.

Brito is excited to use her time at Princeton University to network with students and faculty there.

"Princeton is my dream school," she says. "This could be a great opportunity to not only learn applicable skills for my career, but to also pave the way toward being accepted into one of the top graduate schools in the country."