Achievements
Transfer Student Came to Kogod With a Plan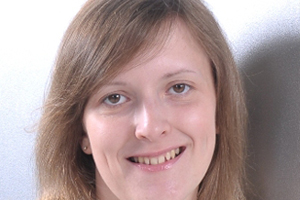 Ukrainian-born transfer student Masha Tsyglakova, BSBA '13, first came to the United States through a foreign exchange program and lived with a host family in D.C.  She fell in love with the area, decided to attend Prince George's Community College (PGCC) and hoped to one day transfer to AU.
"[American] was my first choice transfer school, and the scholarship I received last year made it possible for me to study here," said Tsyglakova.
Tsyglakova was a Southern Management Scholarship recipient—a fund established by the corporation to provide financial assistance to business students from Prince George's County, Maryland, who are admitted into the Kogod School of Business.
And this summer, with the help of an AU Summer Scholars Fellowship, she will be working under Associate Professor Jennifer Oetzel to explore the role of businesses in areas affected by conflict.
The goal of her summer research is to find out what types of firms join business networks aimed at addressing violent conflict in countries where they operate. She also hopes to better understand what motivates companies' managers to adopt conflict-sensitive and peace-building strategies.
Research that Hits Home
Tsyglakova had been thinking about her research aim since early 2010. After her freshman year at PGCC, she attended an information session and campus tour for prospective transfer students, which included lunch with the honors director, who told the group about the research opportunity.
"Since then I knew I wanted to do it," said Tsyglakova.
And here, her business project gets personal.
"I grew up in Ukraine and experienced what it means to live in a developing country, said Tsyglakova. "For several years I also lived in the Caucasus [mountains, near the border with Georgia], very close to an area of conflict."
Her daily life made her interested in further analyzing the link between economic development and conflict resolution.
Beyond taking a comprehensive look into the role of facilitating peace in divergent areas, Tsyglakova also hopes to learn how to conduct proper, thorough research.
"I'm planning to apply to PhD programs in economics in the fall of 2013 and knowing how to do research will be helpful for me," she said.
Tsyglakova believes summer is a great time for internships and research opportunities.
"I think it is very important to plan ahead," she said.