Increasing the Green Behind the Scenes at the AU Library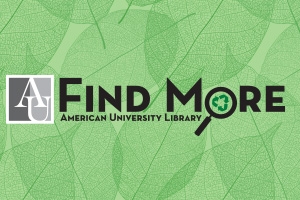 The American University Library Green Team formed in 2011 to promote sustainable and ecologically friendly practices throughout the Library. Over the past three years, the team has engaged in many initiatives to help green the Library, and the campus. It has transitioned staff members to workstations with eco-friendly power strips, installed rechargeable batteries in clocks, increased energy efficient lighting throughout the building, and moved all of the public printers to 100% recycled paper. These efforts culminated in Bender Library's consecutive first place finishes in the university's Green Office Program (2011/12 and 2012/13). The Green Team has also hosted activities aimed at sustainability including do it yourself solar chargers for cell phones, and has helped distribute plants throughout the public and staff areas of Bender Library.
The Green Team also plays an integral role in promoting green practices like recycling and composting throughout the building. Bender Library was the first academic building on campus to use compost bins, diverting organic waste from landfills. The Green Team is currently running a Green Workspace initiative designed to encourage staff to participate in sustainable activities and create a sustainable workplace. Through all of these efforts, and participation in campus-wide events like Earth Day, the Green Team is working to make sure that the Library is a sustainable environment for the staff, students, faculty, and alumni of American University.