Greetings from Chip Griffin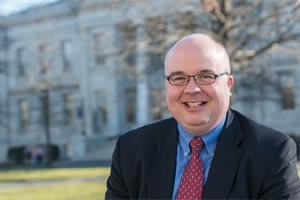 Ah, spring is finally in the air. As I write this, the snow has just about melted in my yard here in New Hampshire. It's about time!

I recently had the pleasure of visiting with some AU alumni in New York City, including a packed reception at the New York Yacht Club that featured a talk by AU President (and fellow alumnus!) Neil Kerwin. It was great to see so many old friends and many new faces. It looked to me like everyone enjoyed themselves -- except perhaps when I mentioned that the Boston Red Sox would be receiving their World Series rings the next day at Fenway Park. Tough crowd!

Back in D.C., the annual Celebration of Scholarships luncheon was held last month. It's a great opportunity to bring together donors who have supported a variety of scholarship funds with the students who benefit from that philanthropy. It serves as a real reminder of the good that our financial support can do.

Of course, we're also now nearing the end of the academic year. The next time I write to you, we will be celebrating the graduation of the Class of 2014. There's a tremendous lineup of commencement speakers, including Katie Couric, Gwen Ifill, Judy Smith, and others.

In addition to the end of the academic year, this month marks the end of the university's fiscal year. If you'd like to make a gift to support scholarships or any other aspect of your alma mater, please visit giving.american.edu before April 30. Your support in any amount will be appreciated.

-Chip