Achievements
Banner Year for AU Scholarship Winners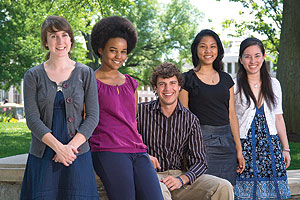 A record number of Boren and Bosch winners highlight this year's impressive slate of American University scholarship winners.
"At a time when more and more applicants across the country are competing for nationally competitive scholarships, AU students continue to excel in an impressive range of competitions," said Paula Warrick, director of the Career Center's Office of Merit Awards.  
AU students won 12 Boren Fellowships, and six are alternates. Funded by the National Security Education Program, Borens provide up to $30,000 to U.S. graduate students to add an international and language component to their graduate education through specialization in area study, language study, or increased language proficiency. 

The Boren winners are:
Ryan Carroll, BA/SIS
Kaitlyn Coogan, BA/SIS
Amber Jolla, BA/SIS
Malina Keutel, BA/SIS
Grant Livingston, BA/SIS
Amanda Osborn, BA/SOC
Monica Sok, BA/SIS
Crystal Corman, MA/SIS
Amy Doherty, MA/SIS
Nicholas Heras, MA/SIS
Madeline Kristoff, MA/SIS
Menwyelet Melat, MA/SIS
The Robert Bosch Foundation Fellowship Program is a distinguished transatlantic initiative that each year offers 20 accomplished young Americans the opportunity to complete a high-level professional development program in Germany. AU's Bosch winners are:
David Courchaine, JD/WCL
Rebecca Ernest, MA/SIS
Among the other scholarships AU students won:
Charles Rangel Fellowship
Critical Language Scholarship
DAAD Graduate Study Scholarship
DAAD Study Scholarship
French Teaching Assistantship
Fulbright Grant
George C. Marshall Undergraduate Scholar
Gilman Scholarship
Institute for International Public Policy Fellowship
Killam Fellowship
Morgan Stanley Scholarship for Study in Japan
NIST SURF Fellowship
Public Policy and International Affairs Fellowship
Reynolds Fellowship
RISE Scholarship
Rotary Scholarship
Scoville Peace Fellowship
Truman Scholarship
Udall Scholarship
"I think several factors contribute to our extraordinary success," Warrick said. "The talent of our applicants themselves, their work ethic and engagement in activities, the important contributions of the students' faculty mentors, and the experience level and dedication of our staff."