On Campus
Add these Titles to Your Roster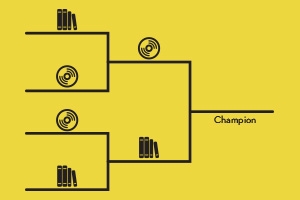 With football season coming to a close and the Winter Olympics on the horizon, it is a great time to fit even more sports into your life! Come by the Library to check out our collection of sports films and books.
42 (BLU 4622) tells the story of Jackie Robinson breaking the baseball color line as the first African-American to join the Major League. This powerful film explores Robinson's first season with the Brooklyn Dodgers in 1947 and stars Chadwick Boseman and Harrison Ford.
The documentary film Senna (DVD 9023) delves into the life story of three time Formula One world champion, Aryton Senna. Employing a mix of home video and archival race footage, Senna won awards at a number of film festivals, including Sundance. 
From the ESPN Films documentary series 30 for 30, You Don't Know Bo (DVD 7913) will take you inside the athletic career of Bo Jackson. Named the "Greatest Athlete of All Time" by ESPN in 2013, Jackson is the first and only athlete to be an All-Star in two major American professional sports—baseball and football. 
Nine for IX (DVD 8530) is also from the ESPN 30 for 30 series. This set of nine films was created to celebrate the 40th anniversary of Title IX and tells the stories of outstanding female athletes. From in-depth looks at individual athletes such as Venus Williams and Sheryl Swoopes to the achievements of entire teams—like the 1999 World Cup victory by the U.S. women's national soccer team—these critically-acclaimed films are an inspiration for both female and male athletes.
If you would prefer to curl up with a good book, we have plenty to offer. Get a deeper look at the industry with Sports on Television: The How and Why behind What You See (GV742.3 .D44 2012) or Sports Fans, Identity, and Socialization: Exploring the Fandemonium (GV715 .S68 2013.) Written by Nate Jackson, a former NFL tight end, Slow Getting Up: A Story of NFL Survival from the Bottom of the Pile (GV939.M29 J33 2013) shares an insider's take on the game.
Soccer fanatics and SIS students alike may enjoy This Love is Not for Cowards: Salvation and Soccer in Ciudad Juárez (GV944.M6 P69 2013), a book that surveys the ties between sports and community in one of the most dangerous cities in the world. How Soccer Explains the World: An Unlikely Theory of Globalization (JZ1318 .F64 2010) examines the interconnectedness between soccer and political/ economic systems with fascinating conclusions.
History buffs may gravitate towards Baseball in the Garden of Eden: the Secret History of the Early Game (GV863.A1 T458 2011), while students of literature may want to take a look at The Peerless Four (PS3616.A886 P44 2013), a period novel about female Olympic athletes competing in the 1928 Amsterdam Olympics.
Looking to unwind with something a little lighter? Former pro tennis player, Monica Seles, recently released Game On (PZ7.S456918 Gam 2013), the first in a series of YA novels. Set at the Academy, an elite boarding school and training facility for teen athletes, this book follows gifted tennis player Maya as she navigates her new surroundings. Full of drama, romance, and cut-throat competition, this novel is ideal for some mid-semester escapism!