Student Success Story
Student Embraces Farsi Culture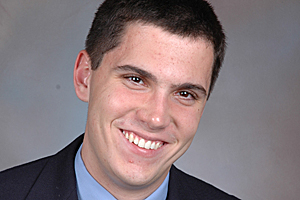 Though Iran and Afghanistan weren't options, Cameron Rathbun '10, got as close as he could: Tajikistan. Where else could he go to hone his Farsi skills?
The School of International Service student's path to Tajikistan began in his home town of Plattsburgh, New York, where an Iranian-born French teacher offered a class in her native language and he became "fascinated with the intricacies of the language."
AU stood out to him because of its courses in Farsi and Middle Eastern studies. Rathbun stood out to AU because, well, how many high-school seniors were driven to learn Farsi?
"It's opened up numerous doors since I've been here," says Rathbun, who landed internships at the FBI and the Middle East Institute and won two prestigious scholarships, a Boren and a Fulbright-Hays, that enabled him study abroad in Tajikistan, one of the places – with Iran and Afghanistan – where the language is spoken.
What were some key factors in winning the scholarships?
My FBI internship, my commitment to the language, and my advisor at the Office of Merit Awards, Chris Swanson, who played an invaluable role.
What was the hardest adjustment while studying in Tajikistan?
The concept of time. I went from having a full class schedule, internship, club sports, part-time job, and social activities to having just class work. The boredom quickly took hold and I thought I was going to lose my mind. However, I sought out other expatriates as friends in addition to my group colleagues, and I got used to the pace of life.
What was the most rewarding part of your stay?
Tajikistan's an incredible country. The blend of Islamic values with Russian culture is fascinating, and the hospitality is unparalleled. Strangers would invite me into their homes and offer me a feast.
What has your experience taught you?
I'm truly fortunate to be American. I could have been born without nearly the plethora of opportunities that lay before me, so it's my intention to use each advantage to its maximum potential. I'm grateful for this experience, and encourage others to try something similar.