On Campus
Job and Internship Fair Brings Employers to Campus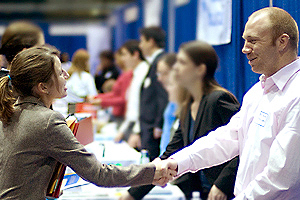 Hundreds of students and alumni mingled with potential employers, pursued job opportunities, and explored internship openings at the AU Job and Internship Fair in Bender Arena Thursday, Sept. 24. 
The fair attracted 120 employers representing the private, public, and nonprofit sectors, including Deloitte Consulting, U.S. Department of State, and Teach For America. Thirty-two alumni returned to campus to recruit and 925 attendees participated, marking a record-breaking turnout for a fall fair.
The Career Center saw an increase in federal agencies and nonprofit organizations represented at the fair, but a slight drop in for-profit employers, which is consistent with current trends, Career Center staff said. And while the economic climate has students concerned about job and internship prospects, employers are still hiring—it just might require more initiative. According to Blair Ufer, employer services coordinator at the Career Center, being proactive is key.
"Commit more to this process than just an application," she said. The Career Center hosted a variety of events, such as a resume workshop, job search crash course, and employer information sessions in the days leading up to the fair. Taking advantage of these types of events gives students an edge when meeting with employers because they are more prepared, she said.
Being flexible about what you're looking for and who you're willing to work with is also important, she stressed. While big-name government agencies are hard to break into, smaller agencies are still actively hiring. And don't get discouraged if you don't find exactly what you're looking for.
"What I hear from a lot of students is 'I'm looking for full-time [jobs], but all I find are internships,'" Ufer said. What students often overlook, she said, is that "internships are a great way to get your foot in the door." Employers are more likely to hire someone they know and, especially with larger government agencies, having internship experience can help you bypass traditional hiring methods.
If you were unable to attend the Job and Internship Fair, there are still opportunities to meet employers on campus. Employer information sessions and on-campus interviews will continue through early December and resume in February. Networking receptions are also set for November and spring 2010. Additionally, the Career Center will host an even larger Job and Internship Fair in March 2010.