Alumni
Graduates Find Career Success Off The Beaten Path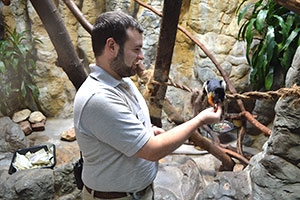 AU alum Kenton Kerns, CAS/BA '07, doesn't have your typical workday. At 6:30 every morning, Kerns and his coworkers begin the day by checking on the hundred animals living in the National Zoo's Small Mammal House. From feeding, cleaning, and medical checkups to enrichment activities, training, and research—no two days are exactly the same. 
"Working at the National Zoo is really exciting," Kerns says. "There's always something new going on, and you definitely feel like you're part of something bigger that's helping save species and habitats around the world."
Kerns started working at the National Zoo as an intern during his senior year at AU. After graduation, he applied for a full-time position that opened up at the Small Mammal House. He's been there ever since. 
"Before my internship, I didn't really understand what zoos did," he says. "The National Zoo, especially, is a leader in conservation and research—so much happens behind the scenes."
The research aspect was appealing to him and also a reason he was able to stand out as a candidate. 
"AU's biology program was research focused, and that was an advantage," he says. "A lot of people don't have that research background."
Through AU, he was also able to study abroad in Australia, which he says was an important element of his animal-focused education. Since graduation, Kerns has stayed in touch with some of his professors, and has been invited back to AU to speak to current students. 
"I feel really lucky to have found a job in a career I love that still offers so many opportunities," he says. "Meeting interns and students who are just starting out is an energizing reminder."
Joshua Joseph, CAS/PhD '04, is another alum who followed a unique career path. As an undergraduate, Joseph studied painting and history, both subjects he was passionate about but wasn't sure how to apply after graduation. He's now an officer of planning and evaluation at the Pew Charitable Trusts and an adjunct instructor for AU's School of International Service. 
"I was one of those pretty clueless undergraduates—I had such a limited idea of what I could do with my majors," he says. "I thought I could either be a graphic artist or starving artist. I didn't realize then how design thinking might be used in so many different ways, that the way they teach you to write and analyze and research in history could be valuable in other areas."
Joseph now runs "Networking for Introverts" workshops for the Career Center, based on his own experience of finding alternative ways to make contacts and connections. He wants to help current students learn from his approach and from his career path. 
Joseph credits Marie Spaulding in the AU Career Center with helping him develop ways to investigate potential career options and communicate his interests and abilities to employers.
He says, "I think that's one of the biggest challenges for career centers: to help students recognize where the gems are in their experience and pull those out, to see the value in things they are passionate about."
Joseph finds his work at the Pew Charitable Trusts fulfilling because it allows him to do just that, to apply his whole range of experience to the job.
"What I really like about what I do now is that it takes everything that I've ever done and pulls it all together," he says. "In this job you need a technical background to understand how the research works, but also soft skills, knowing how to communicate, how to give feedback and ask questions in ways that are constructive."
Speaking from his own experience, Kerns has advice for current AU students on finding your own way.
"Really accentuate the positives of your degree, and take full advantage of your location in D.C.," says Kerns. "Because the College of Arts and Sciences is not a huge school, it's easier to make connections with professors and other students in your program, and the networking opportunities are easier and more helpful than they might be somewhere else."
His advice for students who want to work at the zoo: "Volunteer. Get as much animal experience as you can. You need the degree, but that alone is not enough."
If you're not sure exactly what you want to do, that's perfectly fine too, says Joseph. It's not necessarily about the title, but rather the area you're passionate about and what you can bring to it. 
"Don't focus so much about finding the right job; a lot of people have a job in mind, but what's more important especially early on is figuring out the direction you want to go in," says Joseph. "Ask yourself, what do I like to do? What have I liked doing in the past? What are the skills I want to be using in my next job? Aim to figure out what are the things you want to do, as opposed to the specific name of the field or position."
In other words, do what you love. The rest will follow.