Internships
Changing the Face of Media with the T. Howard Foundation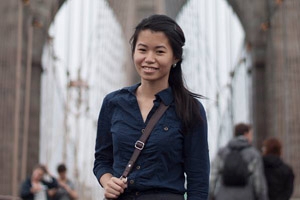 Want to hang out with Peter Dinklage, the actor who portrays the roguish Tyrion Lannister on HBO's hit series Game of Thrones? For Edeny Tran, SOC/BA '14, that was a day on the job, thanks to her internship at HBO. 
"The producer managing the Game of Thrones DVD releases invited me to go along to an audio commentary session," says Tran. It was at this session that she met Dinklage. "He was really nice, and actually initiated conversation with me, which caught me by surprise." She laughs. "He asked if I was an intern for HBO, what school I go to—small talk stuff."
Tran found her internship through the T. Howard Foundation, an organization dedicated to increasing diversity in the media and entertainment industry. It helps self-identified minority students find internships with media companies across the country, and has been doing so for 20 years. This year, the Foundation saw its biggest summer class ever, with 97 interns working at 35 different companies.
"The media industry is changing, and we want to make sure we capture different voices throughout different business functions," says Karla Morrison, senior internship program manager for the T. Howard Foundation. 
American University and the T. Howard Foundation have long had a positive relationship. This year 11 AU students made it through the application and interview stages into the final talent pool, meaning they were eligible for selection by companies looking for interns.
"AU students are both academically well-prepared and have an experience of diversity," says Morrison. "It's a very diverse school, and being located in D.C. gives students many advantages as well."
Tran learned about the T. Howard Foundation from a friend at AU who interned the previous year.
"She told me how the internship program focuses on promoting diversity in the media, which is a cause that I'm pretty passionate about," says Tran. She applied and was accepted as a finalist in this year's talent pool. "Two months later, I got an email from the internship manager of HBO asking if I was available for a phone interview. I had the phone interview and a few days later, they offered me a position."
Interns who make it to the final stages of the process are not only eligible for internships with a variety of media and entertainment companies, but also receive opportunities for professional development. Students are paired with a professional mentor at a media company or in the student's field of interest, and receive regular webinars, resume and interview advice, and a two-and-a-half day orientation at the Foundation's headquarters in Maryland, with travel and lodging provided. 
"We have industry professionals and executives speak to them about networking, business communication, and meeting etiquette, about how to make the most of the hiring process, how to interact with a manager or supervisor, how to present yourself," says Morrison. "Even after they finish their internships, we help them achieve their career goals."
"The T. Howard Foundation team really care about our development and success, which is evident from the programming they do before we start our internship and after we finish," says Tran.
Internships aren't limited to students in academic fields traditionally associated with media or entertainment.
"Often when we think about media, we think about communications and journalism," says Morrison. "But just like other corporations, media companies have a lot of departments, so they're looking for students in accounting and finance, in marketing, in sales, students who are familiar with technology and social media, graphic design students, students in IT, and more."
Chizorom Wosu, KSB/BA '14, joined the Foundation's internship program for two summers, first interning at Comcast's corporate headquarters, and the second time at Paramount Pictures in Los Angeles.
"I majored in accounting and the organization was able to find accounting opportunities within the industry that perfectly fit my career goals," she says. 
Outside of her work responsibilities, Wosu was also able to attend a Paramount Pictures movie premier, attend a taping of Jimmy Kimmel Live, and have a Q&A session with Kimmel himself.
Among other projects at HBO, Tran worked quality control for an upcoming Blu-Ray release of "True Detective," and along with other interns presented brand recommendations to executives across all departments. She says the experience has been both educational and rewarding.
"I wanted to learn about a different side of the industry that was beyond what I learned in class as a film major, and my internship experience definitely fulfilled that goal," says Tran. "I've learned so much, and enjoyed every second of it."
Wosu agrees.
"I had a wonderful experience with T. Howard," says Wosu. "The organization not only focuses on finding opportunities for students, but they also provide students with career development opportunities, numerous networking opportunities, and a chance to make new friends."
Applications for the T. Howard Foundation summer internship program are open during the fall to self-identified minority students with at least a 2.8 cumulative GPA, who are U.S. citizens or permanent residents. T. Howard Foundation representatives will be on campus to meet with students on Wednesday, October 1, from 5:00 to 6:00 p.m.