On Campus
Snowstorm No Match for Office of Merit Awards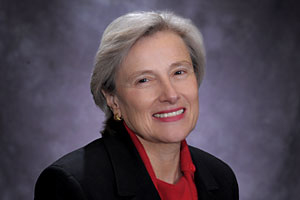 A record-breaking snowstorm that results in canceled classes and an impromptu winter vacation sounds like a dream come true for many students and staff. But for the twelve students working to wrap up their Boren Scholarship applications and Joan Echols, the Office of Merit Awards advisor for the scholarship, the unique challenges presented by the storm made things more complicated — but never insurmountable.
The Boren Scholarships provide undergraduate students with up to $20,000 for the opportunity to study abroad in areas of the world that are critical to U.S. interests and traditionally underrepresented in study abroad programs, such as Africa, Latin America, and the Middle East. AU students applying for the scholarship go through a rigorous process beginning in the fall semester and ending in the spring, receiving one-on-one mentoring from the Office of Merit Awards all the while.
The D.C. region's snowstorm, which shut AU down from noon February 5 through February 11, happened to coincide with the Boren Scholarship's midnight February 10 deadline and the final days of essay revisions. This is one of the most stressful times for students, but the snowstorm provided some unexpected relief. Since many classes were canceled, students had extra time to revise their work. "The snowstorm couldn't have come at a better time for me because I was able to use the extra time off class to work on my essays one last time before submitting them," said School of Communication sophomore Amanda Osborn. "Prior to the storm, I had been stressed about getting all of my schoolwork done and fine-tuning my essays to the best of my ability…However, the impromptu week off gave me time to focus solely on my essays."
While the snow gave students extra time for their applications, Echols was working hard from home to ensure they received the last-minute support necessary. Because AU offices were closed, she worked with students via e-mail and telephone to receive all their materials by the deadline. "I definitely wouldn't have submitted my application without receiving the go-ahead from Joan, and it was really nice that I was able to talk to her over the phone on the last day rather than only through e-mail," Osborn said.
Echols, who also had to submit additional information along with each student application, was fighting not only time but power; the electricity in her neighborhood was going out intermittently thanks to downed power lines. Each time the lights came back on, "I started typing faster," Echols laughed. Office of Merit Awards director Paula Warrick also pitched in, reviewing essays from her home when Echols needed an extra set of eyes. And though the storm had also shut down the office of Institute of International Education, which administers the Boren Scholarship, program officers had made sure to stress that applications were still due on time.
By the end of the day—11:50 p.m. to be exact—each student's application and supporting materials had been successfully submitted. That sort of commitment from the Office of Merit Awards staff is what has helped AU become one of the top three universities for successful Boren Scholarship applicants. In 2009, four of AU's eleven applicants were selected to study in China, Morocco, and Russia, while two were chosen as alternates. Although Mother Nature made things more hectic than usual, Echols never feared that students would miss the application opportunity. "These students are dedicated and committed. They worked hard right to the end. It was a challenge, but we did it."