On Campus
Federal Careers Week Helps Students and Alumni Discover Government Opportunities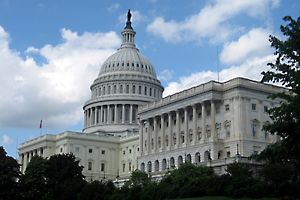 When students think of working for the federal government, many assume that a degree in international affairs or political science is necessary. Some might not even consider it as an option. While students in social science programs often do pursue government careers, others in "non-traditional" majors may be surprised to learn that they are in high demand, too. 
In order to highlight the wide variety of job and internship opportunities available to students of all majors, the Career Center hosted its second annual Federal Careers Week Oct. 5-9.

"Right now," said Career Center advisor and Federal Careers Week coordinator Travis Sheffler, "the federal government is experiencing a transformation of sorts, which means a plethora of great opportunities within federal service for students and alumni. Not only is the government seeking individuals with policy, international relations, and political science backgrounds, but there exists a high need for individuals with backgrounds in business and science and with highly quantitative skill sets."
The hard-hitting week brought to campus representatives and AU alumni from dozens of federal agencies and organizations including the Central Intelligence Agency, Department of Homeland Security, Federal Reserve, and Nuclear Regulatory Commission. More than 400 students and alumni attended nine distinct panel discussions, workshops, and information sessions to learn about careers in business, energy, the environment, intelligence, international affairs, and law enforcement.
"The diversity of opportunities available was reiterated by panelists throughout Federal Careers Week, not only by what they had to say, but also by their own backgrounds and personal stories," Sheffler said.
Through interactive workshops, students learned how to obtain a security clearance, build an effective federal resume, and navigate different routes to federal jobs and internships. A representative from the National Security Education Program also introduced students to nationally competitive Boren awards for international study. Additionally, students had the opportunity to network with distinguished public servants and learn about resources available to them year-round through the Career Center.
"The week reinforced the idea that there are a number of steps students can take now to make the transition from student to federal employee that much easier down the line," Sheffler said. "There are several student employment programs … that not only expose students to federal service, but also enable students to get their foot in the door and break down some of those barriers to federal employment."
Opportunities to learn about government employment are not limited to this week alone. Career advisors are available year-round to answer questions about federal job and internship searches and agency representatives regularly interact with students and alumni at recruiting events and networking receptions each semester.