Achievements
Alternative Breaks Celebrate 15 Years of AU Service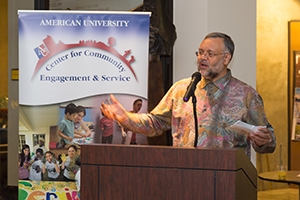 A Milestone

AU just celebrated a quinceanera on campus. The guest of honor? The university's Alternative Breaks program.

On Friday, Sept. 27, dozens of students, staff, faculty, alumni, and community partners gathered in the Katzen Arts Center to mark 15 years of Alternative Breaks bringing AU to the world and the world to AU through service.

The evening launched a photography exhibit highlighting the portraits and stories of South African community partners Grandmothers Against Poverty and Aids (GAPA), who care for a generation of children whose parents were lost to HIV.

The moving celebration attracted honored guest speakers including AU president Neil Kerwin and Amb. Ebrahim Rasool of South Africa.

Speaking on one of AU's core programs and the benefits of service, Kerwin said to the packed reception, "I'm very proud of this program. I imagine that as long as there is an American University, there will be an Alternative Break program."

More than 1,600 students have participated in the program that sends groups across the globe to explore social justice issues ranging from queer homeless youth in San Francisco and women's rights in India to peace building in Northern Ireland and human rights in El Salvador.

Many Thanks

The university expressed its thanks to all involved in various ways, honoring International Student & Scholar Services staff member Kristina Thompson for changing so many students' lives through her years spent supporting the program, which now averages between 12 and 15 trips per year.

As a result of her and other staff and faculty members' efforts, alumni have gone on to work in social justice issues first investigated during their trips. Thompson, however, has pointed out that the program's defining feature is the freedom and power it gives students.

"AU's Alternative Breaks program is unique in that it is so internationally focused and that it's so social justice focused," she said. "It's also very student-driven. It allows students a leadership opportunity to really take charge of the program. Those are some of the things I really appreciate about it."

One of those alumni shaped by the program is Kathryn Mayer, who was also honored for her continued work with Native American rights—an issue she first became passionate about through Alternative Breaks.

"It not only gives you the opportunity to see things you've never seen before and hear stories that might be different from your own," she said, "it also gives you the tools to be a leader in your own community and how to use your voice to change that community, and that's one of the greatest things I learned during my time at AU."

Human Connection

Alternative Breaks program coordinator Shoshanna Sumka created a recording booth for the evening reception so that past participants could share their stories and memories of times that changed their lives.

For her, the trips enforce what many students read about in the classroom; still, there's something more going on.

"It's not an academic program, there is academic learning, but it's a human program, and we all learn and grow from each other," she said.

Cullen Moran, current trip leader for the Spring 2014 break to Cuba, echoed her words, as he said, "Alternative Breaks are much more than a trip or a program that lasts a handful of weeks and then ends. Alternative Breaks are part of a social movement that creates active citizens now and for years to come."

AU prides itself on such a distinction, recently ranking second nationwide for graduates in the PeaceCorps and named by Washington Monthly in its top 10 for universities committed to service.

In a word, AU is simply a community of service wonks, people dedicated to making the world a better place, and Amb. Rasool affirmed this passion.

"Thank you very much, American University, for really leading with your heart and adding to your heads," he said, joining to support the program as well as the work and exhibit on GAPA.

Well before the night ended in the cutting of the program's birthday cake, Kerwin looked at those in attendance and followed up on his words about an AU forever dedicated to Alternative Breaks, far beyond the celebration of a mere quinceanera.  

"Some years from now, some president will stand up here for the 100th anniversary of the program…to pay tribute to tens of thousands of students and thousands of partners around the world for accomplishing what all you have," he said.



Learn more about the history of Alternative Breaks at AU.