Communications
Students, Alumni Get Insider Access in NYC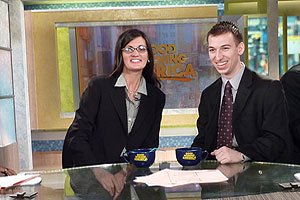 Those who are involved with American University's NYC Marketing Trip can't seem to get enough; participants return year after year to take part in both networking opportunities and site visits.
In its eighth year, the annual trip is jointly hosted by AU's Career Center, the Kogod School of Business, and the School of Communication. The three-day event features almost 20 site visits to marketing, public relations and communications companies; each student can choose to visit six sites.
"The trip not only gives our students exposure to the people, culture and working style of companies in another city, but it allows them an opportunity to make real connections with alumni and corporate friends who will be a resource for them throughout their career development," said Meghan Hayde, Associate Director of Corporate Relations at Kogod's Center for Career Development.
Hayde and KCCD colleague Annie Matanin organized several of the company site visits, including GroupM, Steve Madden, Ross Stores, LiveNation, and Ogilvy & Mather.
The trip also features an opening event and a networking reception with alumni.
The keynote speaker at Tuesday's kick-off event, Lindsey Pollak, was a hit with students for her job hunting tips. Pollak is an author and speaker specializing in Generation Y career and workplace issues; she also serves as a national campus representative for the social network LinkedIn.
At Tuesday afternoon's site visit at CBS, students learned about the station's marketing and communications operations, toured several studios, and discussed how the web is changing the way people watch the news. Their host was alumnus Joel Goldberg, SOC/BA '83, senior vice president of station operations.

Alex Priest, KSB/BSBA '11, has gone on the trip every year since he was a freshman and has sharpened his networking skills.
"Last year…I put myself out there. I'd come to realize the value in knowing people and making new, professional friends and contacts in my chosen fields of interest. I passed out business cards, I took down names and e-mail addresses, I followed up… and I loved it," he wrote on his blog at alexpriest.com. "I've truly evolved as a networker in the past two years."
The trip also presents an opportunity for alumni to engage with current students.
Alumni Kim Lurie Supsak, SOC/BA '04, and husband Matt Supsak, KSB/BSBA '02, have attended the alumni-student networking reception regularly. Tonight's reception will take place at BUtterfield 8 restaurant and lounge in Midtown.
"I've tried to attend the reception each year since I live and work in NYC," said Lurie Supsak, who first attended as an undergraduate student and now works in video production. "It's interesting to be on this side of things and to make connections with current students who may be interested in my field."
Many of the company hosts have taken part multiple times, demonstrating both their commitment and the fact they are pleased with students' participation.
Site visits this year also include ABC's "Good Morning America", The New York Times, The Solomon R. Guggenheim Museum, CBS, FOX, Nickelodeon, Ketchum, MajorTomTV, MWW Group, Madison Square Garden, Dow Jones Newswires, Estee Lauder, Discovery Communications, Associated Press, Apparition Film, MS&L Worldwide, Consulate Film, and MediaVest.